Guide to Parish Council Committees
A Council does not have to appoint committees[1], but sometimes the delegation of work can make life easier and enable it to run more efficiently and be more focused.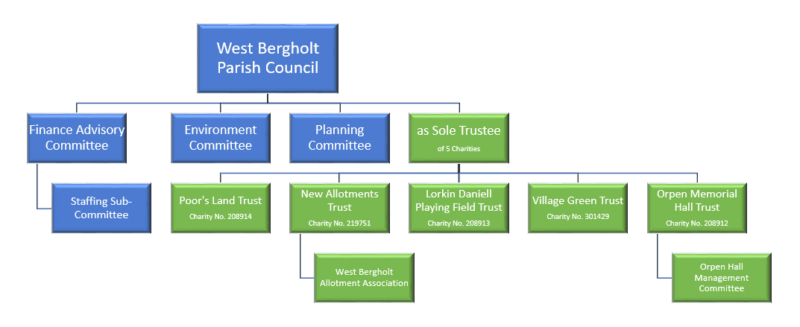 Other committees & working parties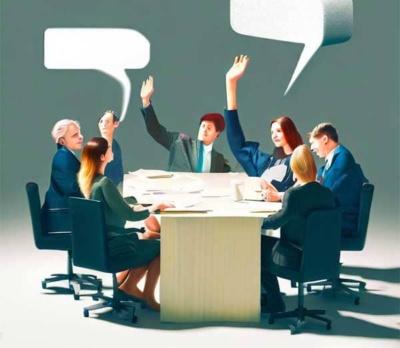 There are two Parish Council committees with delegated powers:
Planning to make timely decisions on planning applications;
Environment to spend an agreed annual budget.
The specific responsibilities of these committees are set out in their agreed Terms of Reference. The members of these committees are approved by the full council, lay members are permitted, but have no voting rights. The minutes of these committees are formally received at each Parish Council meeting and put on the website along with the rest of the agenda reports.
There are also two advisory committees, who make recommendations to the full council. The chairs of Planning & Environment automatically become members of the Finance Committee, as do the Council Chair, Vice Chair and Responsible Finance Officer. A sub-committee looks at staffing issues. Other working parties & groups are also set up from time to time to address specific projects or activities.
[1] Local Government Act 1972, s. 101 (1)(a)
Working Party and Committee Makeup & Responsibilities
Working Parties, Committees & Sub-committees exist within the Parish Council (which meets on the 4th Wednesday of the month at 7:30 pm), under the following headings:
Finance, Policy & Personnel Advisory Committee –

with responsibility for financial advisory, grant applications, tender analysis, contracts & resource functions

. See Terms of Reference. Meets on the Tuesday week prior to the Council meeting (not a public meeting).
Environment & Highways Committee –

with responsibility for footpaths, roadways, hedges, trees, bus shelters, public notice boards, public seating and handyman work scheduling

. See Terms of Reference. Meets on 2nd Thursday of the month at 5:30 pm.
Planning & Development Committee – with responsibility for planning reviews, project outline specifications, Village Design Statement and Village Development Strategy. See Terms of Reference. Meets on 3rd Wednesday of the month at 7:30 pm.
Staffing Sub-committee – with oversight of staff contracts, performance etc… Meets as and when required.
Communications Working Party – to assess the Council's interaction with residents & organisations and advise on any improvements. Meets as and when required in order to review the Community Engagement, Policy & Action Plan.
Playground Advisory Group – see Terms of Reference.
MUGA Working Party – see Terms of Reference.
Joint Steering Group – comprising three Trustees from Orpen Hall Management Trust and three representatives appointed by West Bergholt Social Club.
Climate Emergency Working Party –
Orpen Hall Management Committee – see Terms of Reference.
Village Fete Sub-Committee – see Terms of Reference.
Allotments Association – see Terms of Reference.
Community Safety Plan Working Group – see Terms of Reference.
William Sims Sports Field Working Party – to develop proposals about the new Playing Field – see Terms of Reference.
Dates & timings of meetings may change from time-to-time, please check the calendar in advance of attendance.
The current membership of these groups is shown on the contacts page; where practical, each member will be on at least two groups.
Registered Charities
Chair's Role.
The Parish Council has a unique role in the community. It may have limited statutory powers, but it is the only authority that can truly champion – at a very local level – a sense of place and community which upper tier authorities such as CBC and ECC cannot by virtue of their wider responsibilities. The Parish Council may be a third tier local authority, but aims to provide first class support for its community! My role as Chair to implant our unique sense of Place in the minds of everyone I meet and help achieve a better quality of life for all our residents.
Local Government, and indeed public services in Essex generally, are often complex and confusing to residents The Parish Council can and should help residents navigate this, often bewildering set of responsibilities. It can do this in a number of ways, it can be a first port of call for all manner of issues that the community wishes to raise, and it can champion these to the relevant authorities. Sometimes it can directly assist through the funding received through grants and the precept, but most frequently it can assist by talking to residents and engaging as individuals in community life and discussing matters at committee or full council meetings. You will find that all the Parish Councillors are also strong supporters of other community groups, clubs and societies that are a feature of our thriving village and parish life.