Bergholt Youth Group – BYG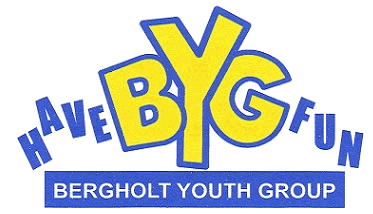 The Bergholt Youth Group (BYG) is a Youth Club which has been meeting since early 2008. It was formed in response to a need identified in the village through the Parish Plan consultations.
The Club is for young people who are in school Years 6 to 9. The Club meets fortnightly at The John Lampon Hall (rear of Orpen Hall) from 6.30 to 8.00 pm.
There is also a tuck shop at each Club meeting for drinks and snacks. Membership is £3 for a year and 50p for each attendance at the Club. The Club year commences in September.
The Club has a management committee and is run by volunteers. The Club Leader is Jamie Bowden who is responsible for the organising and running of activities at Club meetings.
Activities
The indoor activities range from table tennis and pool to electronic games such as a Playstation and Xbox.  Weather permitting we have use of the field and the adjacent Multi Use Games Area (MUGA) for sporting activities such as tennis and basketball.  Links with the Essex Boys and Girls Association also enables introduction to activities such as archery.  Special events have been very successful during the last year including an "Old Fashioned Sports Day" and "Bergholt's Got Talent".
Volunteering Opportunities
The Club needs a good pool of volunteers so adults, young or old, with experience of youth work or just interest and enthusiasm, are welcome to join us.
For more details of membership or volunteering please contact the chairman or secretary:
Recent news items
The following articles are about, or reference the BYG, to read the whole article please click on the heading…