Cycling around West Bergholt
West Bergholt is ideally placed on the west side of Colchester as a base or stopover for cycling trips.  With easy access to  a host of quiet country lanes you can pick up on one of the 'Cycle Essex' routes (see the Visit Essex website or the sample route extract pasted below).  Alternatively, just follow your own route; maybe wander over the border into Suffolk to enjoy Constable Country, or track the River Colne upstream.
Real Essex Cycle Routes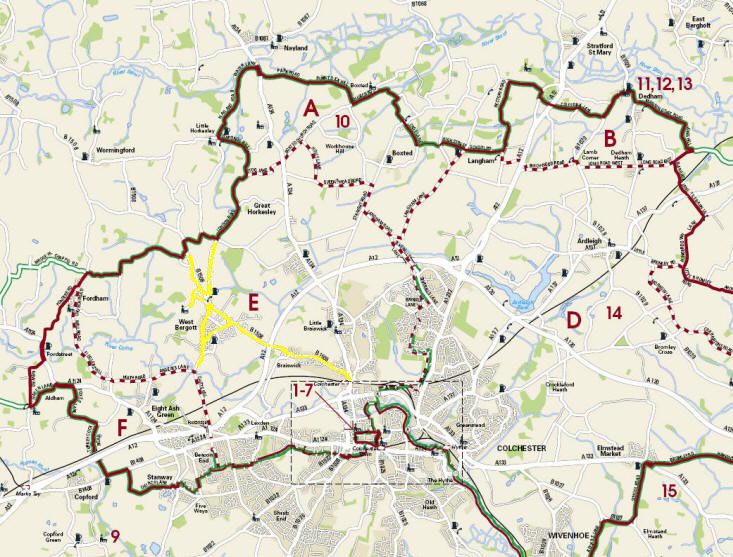 Cycle Essex sample Route incorporating West Bergholt – Click to open in PDF format
Colchester Orbital Maps Improved
New and improved downloadable maps of the Colchester Orbital have been created and are now available at www.colchester.gov.uk/better-colchester/colchester-orbital.
The picturesque Colchester Orbital is a nearly 15-mile circular walk and cycle route around the edge of the town.  It connects a network of  cycle paths and green spaces to make an idyllic way to enjoy the countryside.
Launched in 2018
The Colchester Orbital route was officially launched in 2018 under the Walk Colchester initiative.  It is a part of the Jane's Walk programme, an international initiative of local walks led by local people on local themes.  The programme honours the legacy of the urbanist, writer and activist Jane Jacobs. Colchester Borough Council has worked with a range of partners to support this community project; it seeks to promote, preserve and protect the circular route around the borough since 2015.
Cycle map