West Bergholt's first deportee to Australia?
A story from down under about, possibly, West Bergholt's first deportee to Australia during the reign of Queen Victoria. Sentences for crimes were heavy in Victorian times and even included deportation. However, the story of William Hawkins, as told by his great great granddaughter, had a positive outcome after deportation and serving sentence for his crime.
Unbeknown to the residents of West Bergholt in 1862, for a short time they harboured a criminal. William Hawkins, alias Atkins, had committed a crime in London. To escape apprehension, William scampered to West Bergholt and stayed with his father (also William Hawkins), a wheelwright in the village.
Born in Bures Hamlet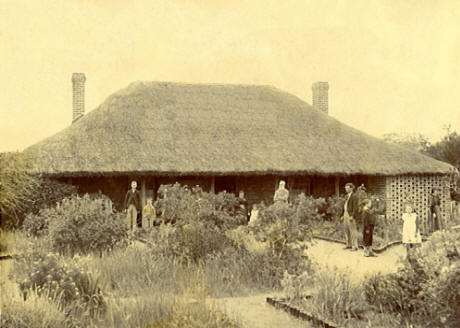 William was actually born in Bures Hamlet, baptized in Bures St Mary. He was baptised in 1841 along with one of his brothers. Judging by his age when he died, and the age given at trial, he would have been born around 1834/35.
The family moved to West Bergholt sometime after the death of William's mother in 1844. His father remarried in West Bergholt in 1848. William, the elder, and two younger sons were living in West Bergholt in the 1851 census. The father and stepmother, whose name was Mary Ann, were recorded in the 1861 census and were still there in 1862.
As William wasn't mentioned on the 1851 census in West Bergholt, perhaps it was the old story of not getting along with stepmother? How long the family remained in West Bergholt after William's misdemeanour is not known.
Turned to Crime
Why William turned to crime is anyone's guess. He had worked with his father as a wheelwright, later becoming a craftsman in stonemasonry in Western Australia. On the lead up to his misdemeanour, William found himself in London and unable to find work. In an time, nearly a century before the welfare state, people often found it necessary to survive by fair means or foul.
On the night of 6 June 1862, William was found on the premises of Mr Samuel Gregson, MP 32 Upper Harley Street, and was subsequently charged with 'being burglariously breaking and entering the house of Mr Samuel Gregson, MP, and, also with violently assaulting William Short, butler to Mr Gregson'.
The Butler Testified
The butler testified that on the night of 6 June 1862, he heard a noise in the kitchen a little after 2 am, and when he went to investigate, found a man there. After locking the man in the kitchen and setting off the alarm, he returned to the kitchen to find that the door had been forced open. A fight ensured between the butler and the man.
"I struck him with my fist and the man returned the blow. We then fought with each other till we got into the pantry, where he gave me a tremendous blow, and knocked me down. The light had been knocked down, and put out, but I managed to scramble in the dark till I reached the fireplace. There I seized a poker, and dealt my antagonist several heavy blows, which I think, hit him on the head or face. He must have bled freely, as the blood spurted over my face and hands and nearly blinded me."
Escaped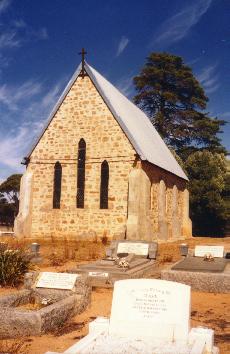 William escaped and he went to stay with his father in West Bergholt. He told his father that his injuries were received in a cab accident in London. On returning to London he was recognized and arrested. At one of his court appearances James Howe who was the Postmaster in West Bergholt at the time, testified that William came to stay with his father who lived next door to him. William's face was bruised and one of his eyes was black.
On 18 August 1862, William was convicted of burglary at Clerkenwell, and sentenced to 15 years penal servitude. In the convict notes it states that William had a scar on his nose, no doubt as a result of the fight with the butler. No doubt as a result of one of the blows from the butler!
Deported
William was transported to Western Australia and arrived in September 1864, eventually settling in the town of Mourambine. The home William built for his family and the village church, St Patrick's (see above right), still stand today.  Mourambine, alas, no longer exists as a town.
William became a master stone mason and was responsible for building most of the stone buildings in Mourambine. He became a member of the Vestry and later a Lay Reader in the Church. William's marriage to Mary Ann Goodenough was the first marriage performed in the church.
William and Mary Ann had nine children. William died in 1926, aged 92.
Lois Walker,
Western Australia