The Queen's Champion – a local hero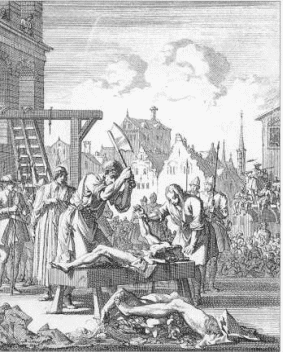 In 1540, the son of the Lord of the Manor of West Bergholt was hanged, drawn and quartered on the orders of Henry VIII (a contemporary print is shown on the right and links to more information on this archaic punishment).  The dramatic story of Thomas Abell, whose family lived at Cooks Hall, is told in a new book, "The Queen's Champion," by village resident Jon Lander.
Abell was chaplain to Henry's first wife, Katherine of Aragon, whom the King wanted to divorce in order to marry Anne Boleyn.  Henry claimed that when he married Katherine, he had broken God's law and the marriage was invalid.  On a secret mission to Spain, the Queen's chaplain sought to destroy the King's case for divorce and back in England, he argued against the King both in print and from the pulpit – with the inevitable result.  This was a time when the wrath of the King was death.
Jon Lander's Inspiration
"I wrote the book because the man is a forgotten hero," says Jon Lander. "He was also a local man and part of the village's rich history.  It is fascinating to think that, as a child, he probably played down by the river below Cooks Hall and worshipped in the Old Church. I felt it was a local story that needed to be told."
"The Queen's Champion" is available from Amazon.
Jon Lander
Village Bulletin – Issue 106,
December 2008