Queen steps in to get rid of stubborn Rector
The Old Church has seen its share of drama in 1,000 years and had some strange incumbents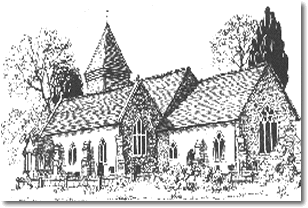 One of them was personally fired by Queen Elizabeth the First; there was one who spent so much time in the ale houses of Colchester that he neglected his parishioners; yet another was accused of swearing in church; and one went bankrupt, owing his churchwarden and the bank a small fortune.
And those are just the ones we know about. The private lives of the Rectors of West Bergholt used to be the stuff that tabloid headlines are made of.
36 Rectors
There has been a church dedicated to St Mary the Virgin in the village since Saxon times and the first clergyman who is recorded to have been associated with it is a man called Robert in 1168. But from the year 1370 until the present day, there is an unbroken record of 36 men who have been Rectors of West Bergholt.
The 16th and 17th centuries were tough times to be clergymen as the Reformation was taking place and control swung between the Catholic and Protestant wings of the church, depending on which monarch was on the throne. To say the wrong thing at the wrong time could mean a hideous death.
Drunkeness
A man who believed in living dangerously was the Rev Edmund Tarrell who was reported to his Bishop in 1545 for drunkenness, fighting and neglecting his pastoral duties. He failed to turn up to conduct evensong on one occasion, and a dying woman did not receive the last rites because the Rector was in a pub in Colchester and could not be found. Rather more dangerously, Mr Tarrell did not read out to the congregation Henry VIII's latest version of religious doctrine. But he got away with it and continued as Rector until his death 14 years later.
Protestants from the village were burned at the stake as heretics during the reign of Bloody Mary, but it was Catholics who were "politically incorrect" when Elizabeth came to the throne – which is why the Rev Richard Kyrby was in trouble. The introduction of the Prayer Book written in English instead of Latin was one of the Protestant reforms that Elizabeth approved of.
Rebellious Rectors
In 1581, one of Kyrby's congregation accused him of saying people shouldn't read the English version – virtually accusing him of treason. Kyrby denied it and his accuser backed down, but 16 years later the Queen personally intervened to have him removed as Rector of West Bergholt on the ground of his "contumacy" – his stubborn resistance to authority.
Another Rector who got into trouble for clinging to the "Old Religion" was the Rev Gregory Holland who was a supporter of the Royalist side during the Civil War. In 1650, he was summoned before the Committee for Scandalous Ministers to face charges of swearing in church, "being a haunter of taverns" and drunkenness. But his real offence was being a high churchman and a royalist. In one sermon, for example, he preached that it was "not fit for farmers and tradesmen to know the mystery of their salvation, but only for himself and such as he." The Committee decided not to turn him out, but decreed that he should have a curate chosen by his parishioners and that he should pay him the bulk of his stipend.
Nearer our own time, the Rev William Sims, who was Rector from 1816 to 1846, got himself into trouble of quite a different kind. In 1841, he was declared bankrupt to the tune of more than £2,000 – an enormous sum in those days. Of this he owed £515 to Robert Bradbrook, his churchwarden and a wealthy local farmer. His creditors made him take out an insurance policy on his own life, so that when he died, they would get their money back. But he was so hard up that that the bank had to lend him the money for the premium.
Jon Lander
Village Bulletin – Issue 88,
December 2001