St Mary's old church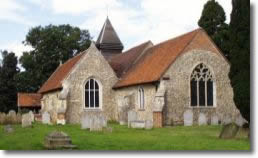 During the 1970's, Essex County Council's Archaeological Department undertook an excavation, in conjunction with renovations that were taking place at that time.  It indicated that major rebuilding had occurred in the 14th century to the earlier fabric of the single-cell Saxon church.  The north wall of the original Saxon church still survives in the existing north wall of the church, which the excavators assessed to be of the date c. 1000 AD.
What surprised the excavators was the complete lack of evidence for a west wall to the church, which suggested to them that the western structure must have been built in timber, and hence there are no remains of its existence.
Re-used Timbers
Several ancient and obviously re-used timbers were found in the existing belfry.  Examination suggested that they might be timbers salvaged from the demolished west end of the church.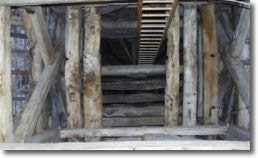 These timbers are of oak, short-grained and heavy of section in relation to their length, and were evidently used as a low-cost makeshift to provide a floor in the timber tower which dates from the 14th. century rebuild. There is one length of timber in this tower that has an 'old' squinted notched-lap-joints cut on adjacent faces.
This suggests that it had originally been a corner post of a tower structure, and according to archaeological evidence, a possible date for these re-used timbers could be c.1000.
It is possible to view the length of timber showing the matrix 'notched-lap-joint', by standing at the bottom of the tower, and with the help of a strong torch, looking directly up to the underside of the 'first floor'.
English Historic Carpentry
Cecil A.Hewitt
Read more about St Mary's place in the modern world on the churches page, or, if you are interested in knowing about the group who help look after the church, then visit the Friends of St Marys Old Church page.
If this page of local history interested you then perhaps this article about a Stubborn Rector might as well.