Tennis Courts/MUGA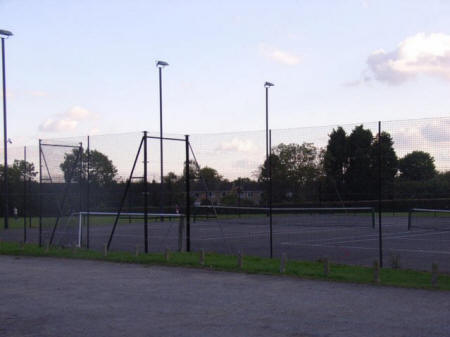 The all-weather games area, also known as the MUGA ( Multi Use Games Area) is now fully open. The new surface has a self-draining material with a colour contrasting court surface for tennis use. Booking in advance is essential.
Tennis Bookings
To book the courts, please contact the Hall Administrator, either by text or email, at least one day in advance
Each court is available to hire at £5.50/hr with tokens for the floodlights also available at £1 for 30mins.
Non-Tennis Bookings
Since the MUGA is set out for tennis use by default, requests for games other than tennis require more planning. You should contact the Halls Administrator (as above) well in advance of your intended usage. The Hall Administrator will consider your request dependent on the nature of the proposed use. Considerations include:
Any required dovetailing with pre-booked activity for tennis,
Provision of other equipment required, and
Removing the tennis nets & posts for Games requiring use of the whole surface area. It is easy to damage these so either:

the Hall Administrator will need to arrange to have them removed prior to use, or
you will need guidance on how to carefully remove them and set them to one side yourself.