Fitness & Dance Classes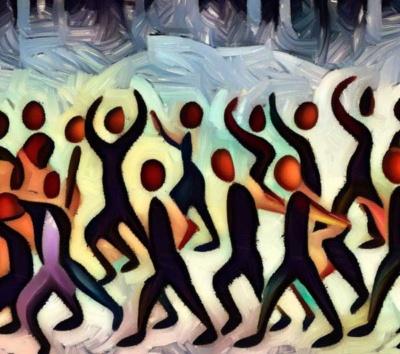 We hope to share as many local fitness classes as we can on this page – if you know of one that is not included please contact the webmaster – [email protected]. Before starting any exercise programme, it's advisable to seek advice from your GP or a health professional if you have any health concerns, such as a health condition or an injury.
((Bounce))™
((BOUNCE))™ is 3 times more effective than floor based fitness thanks to the addition of gravity and g-force provided by the trampoline. The 1 hour class features the first 45 mins of choreographed dance-cardio jumping routines to burn calories fast and finishes with 15 minutes of toning. Sessions are programmed to achieve rapid weight loss by burning up to 700 calories per class.
Their motto is: "Fun. Friendly. Fierce" so prepare to work hard but feel welcomed, smile and have a laugh. There are beginners in every session too, so don't worry about feeling self-conscious – you'll see everyone bouncing at their own pace. It usually takes 2-3 sessions to get used to all the bouncing and recognise the moves so stick with it… but here's a warning: it's addictive!
Child-Friendly
Some sessions are child-friendly. These are sessions where kids of any age can attend in the studio while you workout. Toys, food, prams etc are all welcome with no pretentiousness to deal with! Some mums stop to breastfeed, others are managing potty runs or just needing to give cuddles in between jumping along. There's likely to be a tantrum or two, or sharing your trampoline with your little one – the Instructor just carries on, no-one minds! You don't have to be a mum to come along, the workout is still the same!
Set Your Own Pace
I'm really unfit, can I still attend? – Yes of course!
To make ((BOUNCE))™ easier you just bop along lightly, or to intensify the workout you push down really hard. The point is to enjoy exercise and our purpose is to push you to fatigue, driving rapid results. You're welcome to stop and rest at any point there is usually a break for a quick drink every 3 or so tracks. ((BOUNCE))™ is programmed specifically to run in intervals of 10-minute cardio sets for a H.I.I.T workout. Remember it's YOUR class so go at YOUR pace, but utilise our motivation to get maximum results.
How to Book
Sessions are booked in advance online in order to reserve your trampoline. You can book through the Bookwhen website. For more information please take a look at ((BOUNCE)) West Bergholt's Facebook page or contact Kerry directly on 07886369450.
Fleur's Pilates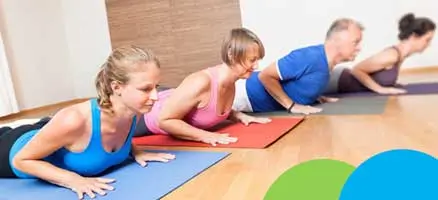 Running every Tuesday evening in the John Lampon Hall (Orpen Hall), Fleur's Pilates classes are suitable for all ages. It doesn't matter if you are a beginner, you will be sure of a welcome between 6 – 7pm for just £8 a session. For more details, or to book, contact Fleur at [email protected].
Pilates is an exercise system designed by Joseph Pilates to strengthen muscles, increase flexibility and improve overall health. Regular practice will help to develop core strength and stability, improve posture and encourage greater mobility. When we move well, we feel well!
Fleur advises you to bring your own mat and a small towel.
High-Intensity Interval Training – HIIT with Kelly
Kelly's HIIT offers an intense total body workout lasting 40 minutes which, Kelly says, is:
designed to shred fat, transform your whole body and make you feel amazing.
The sessions cost £5 each and are running as follows:
9:30am on Mondays in St Mary's Church Hall,
6.30pm & 7.30pm on Tuesdays in St Mary's Church Hall,
6.30pm & 7.30pm on Thursdays in St Mary's Church Hall,
9.30am on Fridays in the St Mary's Church Hall, and
9.00am each weekend (alternates Sat/Sun) in the Orpen Hall.
Kelly adds:
Modifications for any fitness level, bring a towel and water and be prepared to work hard, sweat buckets and leave on an enormous high from your efforts!! 'Warning' HIIT is highly addictive. Whether you're just starting out on your fitness journey or already train but are looking for a quick effective full body workout come give it a go – you won't regret it.
Spaces are limited so you are encouraged to contact Kelly through her Facebook page, mobile phone 07453 859 583 or email [email protected] if you are interested.
Over 60s – Dance4Health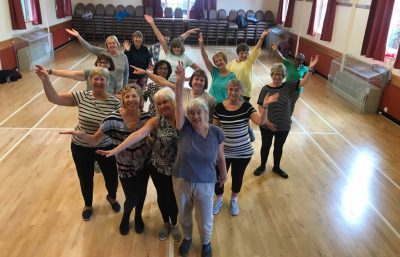 Dance and the arts can provide successful antidotes to health problems for older adults, being a great way to keep on your feet and help ease joint pain and keep bones healthy. For the older adults, dance ticks all the boxes for keeping active.
Dance4Health can help you to stay healthy, energetic, mobile and independent. They can help you improve balance, coordination, memory, rhythm, core strength confidence and overall physical health. They offer fun and accessible activity with both low and high-intensity options and the opportunity to build new friendships.
Pay as you go!
Sessions take place every Monday at the Scout HQ, Lexden Road, starting at 11:30 am until 12:30 pm for just £7. No need to pre-book, just turn up and enjoy. To find out more call 07984 739584 or 01206 617110 or visit their website.