Bell Appeal Update
Giving a Bell Appeal update, The Friends of St Mary's admitted the £10,000 target was initially overwhelming, but they have been delighted by the support that they have received from residents, especially at their recent Curry Lunch.
The appeal had reached £8,605 before receiving a £500 donation from the parish council which was received by Carrie Creswell, Teresa Morris & Jane Lloyd (pictured right with WBPC Chair, Chris Stevenson) at the recent PC meeting.
Recent Activities
Most recently, the Friends held a Curry Lunch on 11th March which was not only their most ambitious, but also their most successful event.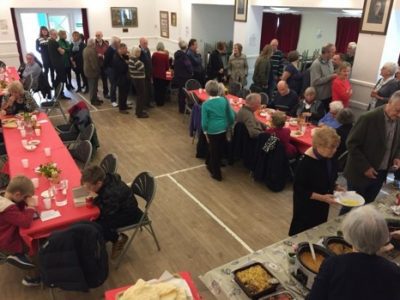 A week before the event, the committee was considering calling it off through lack of ticket sales.  However, over the ensuing week we sold so many tickets that we asked the Orpen Hall to let us use the   John Lampon Hall for extra tables.  In the end, they fed 84 people and raised over £800 in the process!  There was also a great community feeling with people asking when they were going to do it again!
All the food (curries and fruit crumbles) was cooked by the committee members with the unstinting help of an Indian lady called Sonal, who lives in Great Horkesley, who helped slice and chop and spice the curries (mildly), for our English taste.
As the committee aren't professionals, on the day they found catering for that number of people a wee bit challenging (like not realising quite how long it would take to cook rice for that number of people!), but with such a good-natured crowd and the hard work of the volunteers, everyone seemed to enjoy the occasion.  The committee certainly enjoyed it, and much appreciated the goodwill and generosity of the village.
Ways to Help
The plan is to erect scaffolding and do this specialist work in Spring, so we need to raise the funds quickly to make this happen.  To confirm the grant the donors need to see that we can raise our share of the money.
We will ring-fence all donations to this appeal, you could help us in the following ways:
Firstly make a donation either:

by cheque to the 'Friends of St Mary's Old Church" sent to our Treasurer: Rhys Lloyd, 4 Coopers Crescent, West Bergholt, CO6 3SJ.
by electronic transfer online to a/c no. 65515734, Sort Code 09-92-99. Please indicate who the donation is coming from.
through justgiving.com: to the " St. Mary's Old Church West Bergholt" appeal.

Become a Friend of St Mary's Old Church or renew your membership (just £5). Phone Rhys or Carrie or visit the church for details.
Make your friends aware of our Appeal; also that the Old Church is open to visitors from 10am – 4pm every day.
Hold a fundraising events or help us with one of ours. To offer help, please contact Jane or Carrie.
Support future events such as:

Supporting the Friends of Hillhouse Wood and their guided Bluebell Walk on 22 April. We will be serving food – savoury scones, cakes, tea, coffee and cold drinks from midday to mid afternoon in the church and we hope people will call in for a bite to eat and a drink before going for their walk or on their return.  More details to follow.
A concert on Saturday 13 May.  More details to follow.