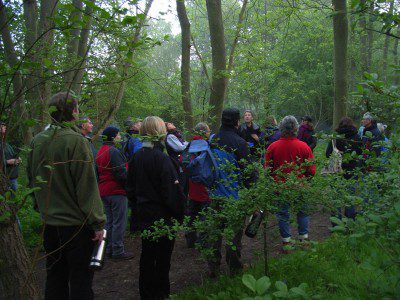 Dawn Invasion of Hillhouse Wood
Steve Hallam reports on this year's Dawn Chorus walk in Hillhouse Wood.
Dawn seems very early
There are times when 3.45 am feels like a truly mad time to go for a walk.  Such times are generally around 3.15 am, when the alarm sounds.  And, as the guide for this year's Dawn Chorus walk, I couldn't help wondering if anyone else was going to be mad enough to turn up this year.  As it turned out, my timing was such that I arrived at the old church right on time (close enough to prompt some concerns by Andrew Savage concerning the reliability of the Hallam alarm clock).  As I drove down the lane to the church I saw one car (phew – someone's turned up), then another, and more, and then lost count.  I then saw what looked like a small army standing by the bench.  Had a coach party turned up?
Andrew, being Andrew, was doing a head count – 32 people!  Amazing, and a Personal Lifetime Best!
Which, of course, raised the stakes for being able to find everyone some good birds to see and hear.  We had a guess regarding the first species we would hear (not withstanding the Tawny Owls that had been heard already).  The suggestions were Cuckoo and Nightingale – both good ones, as these birds have previously achieved this status.
First call from Whitethroat
In previous years we have heard something almost as soon as we'd started off.   This year, however, we were past the site of the hurdle maker's cottage before we heard our first bird.  To make up for the delay it came from the hedge right next to us.  It was a single blast of Whitethroat, perhaps complaining about its sleep being disturbed.  They don't normally sing this early (not that I have a robust 'data bank' to base this opinion on).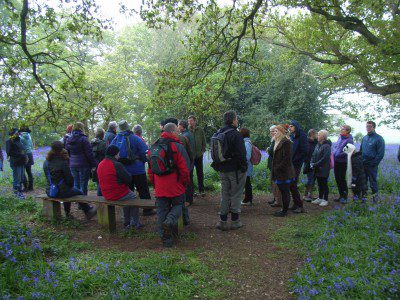 Things continued to be quiet as we approached the wood, such that I was starting to worry what to talk about.  However as we reached the main entrance a solitary Robin struck up its fluid song, and (relief!) we could hear a Nightingale singing lower down the wood.  As we stood and listened at least two Tawny Owls were calling at each other from either side of the wood, while the first Blackbird also started.  The Blackbird is sometimes referred to as 'the poor man's Nightingale', so we had a good opportunity to compare the two.  The first Wrens also entered the fray at this point, while a Pheasant called somewhere in the dark.
Nightingale still singing
We moved on into the wood and took up position around the top pond (it was noticeable how many torches came into use as the group negotiated the narrow path to the pond!).  The Nightingale was continuing to sing and could now be heard more clearly.  Here we also heard our first Rooks and Wood Pigeons as they woke up.  We moved on down the hill to where we had arguably the highlight of the walk: the Nightingale that we had first heard had continued to sing throughout the walk so far.  By now we were only a few yards from its bush, but it continued to sing unabated.  Everyone in the party was able to thoroughly familiarise themselves with a Nightingale in full cry.  At the same time one of the wood's Blackcaps finally woke up close by.  To complete the noisy 'soundscape' some Blue Tits started their incessant calling on the other side of the path.
Surprising Goldcrest
Moving on down to the stream at the bottom we heard a singing Chaffinch, some Canada Geese noisily flying nearby, the first Chiffchaff of the walk and the major pleasant surprise of the walk – a singing Goldcrest.  What he was doing there I have no idea, as they normally live in conifers.  He was near the large Alder trees, so maybe these were acting as a substitute habitat.  Reaching the lower pond we had our second surprise – a pair of Mallards.  They are presumably looking for a quiet place to breed – they may not have chosen wisely.  But it is an implicit comment on the relatively good state of the pond this year that they are even considering setting up home.  Whilst here we also heard our first Jackdaws and Great Tits.  At this point I (and hopefully at least a few of our guests) heard one call note from a Buzzard somewhere overhead.  As we continued round the rest of the wood things started to wind down, but we heard a Nightingale singing in a thicket that I'd not heard occupied before, along with both resident species of woodpecker.
Missing Song Thrush
So what did we fail to hear this year?  There are always some species that inexplicably keep quiet.  Our 'roll of shame' is headed by Song Thrush and Dunnock, while I was also hoping to hear the Nuthatches.  The solitary Cuckoo in the area failed to call, whilst it appears that the Yellowhammers who usually live by the track have disappeared. Overall, though, a tally of 21 species was very respectable.
Full list of species seen/heard
Tawny Owl
Whitethroat
Robin
Nightingale
Blackbird
Wren
Pheasant
Rook
Wood Pigeon
Blackcap
Blue Tit
Chaffinch
Canade Goose
Chiffchaff
Goldcrest
Mallard
Jackdaw
Great Tit
Buzzard
Green Woodpecker
Greater Spotted Woodpecker
Other useful links are: