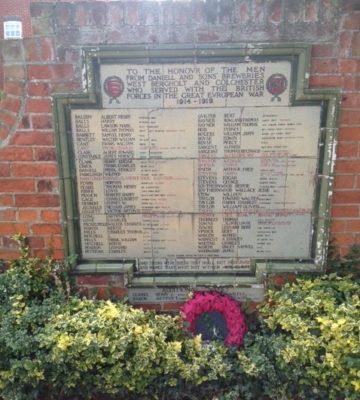 Friends Group Pay Respects at Daniell & Sons WW1 Memorial
Lacking a village war memorial, some years ago The Local History Group compiled a list of those who died in WW1; the Friends of St Mary's had this list copied by a Calligrapher and placed in the Old Church.  It has become the Friends' custom in recent years to gather in the Old Church to remember these fallen from the village; the bell would be rung and, more recently, a wreath laid.  Sadly the church is closed for repairs this year and this, now annual, event could not occur.
However, some may be unaware of the Daniell & Sons Memorial that is situated on a wall outside the Truman building.  Accessed through a wrought iron gate in the brick wall on Colchester Road, the Friends continued their customary remembrance by laying a poppy wreath there instead.
The memorial lists the names of all employees of Daniell & Sons Brewery who served in "The Great European War 1914-1919"; those named in red paid the so-called ultimate price.
What Year Did You Say?
OK, so you spotted 1919, but we all know that the war ended in 1918 – didn't it?  We even know the time – the 11th hour of the 11th month.  Well technically, the war didn't end then although fighting ceased with the signing of the armistice agreement.  Legally the war ended for Europeans upon the signing of the Treaty of Versailles on 28th June 1919.  Oh, & the Americans having been late to arrive were also late leaving; they didn't sign their own peace treaty, the Treaty of Berlin,  until 25th August 1921!
In case you didn't know much about our local brewery as was:
The company was formed in 1887 by the merger of Daniell & Sons of West Bergholt and Daniell Brothers of Colchester. The Castle Brewery in Colchester was closed by 1892 and brewing concentrated at the West Bergholt Brewery. The company survived until 1958 when they sold out to Truman, Hanbury & Buxton Ltd. Both Colchester and West Bergholt appeared on the labels and other advertising material until closure; Colchester being the brewing offices and company address and West Bergholt the brewery.
This snippet was sourced from:  http://labology.org.uk/ an interesting site if you like breweries and beer labels.