Yoga 4 Life – One Step at a Time
Starting 19th September, Meg Lyon, a long time village resident, is offering a course of Yoga for 7-12 year-olds.  Running between 6:15 – 7pm for 5 weeks in the John Lampon Hall the course will cost £30 per child.  To book please contact Meg at [antibot mailto="wholesomehealing[email protected]"].  If this course goes down well, Meg hopes to run a course every half term; she is also considering a teen course so let her know if your child would be interested in that as well (either email or via Facebook).
Meg has taught Physical Education in schools for 20 years and also practiced yoga for many. Last year she decided to marry the two and do a children's course and has spent the last year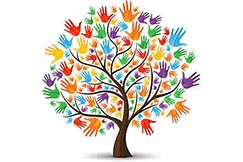 teaching yoga in schools in and around Colchester. She hopes to bring children a bit of peace and calm in what can be sometimes a crazy world. In the classes children will experience fun yoga games, follow simple yoga sequences, moving meditations and practice poses.
Each session will include 5 minutes where they will listen to a meditation, or some positive affirmations/words, with gentle music.  Each session ends with sprinkling magic dust or looking at a positive message on a special stone or shell. The children will also learn tips and techniques that they can practice at home to help with mindfulness "living in the moment".