Fruit Bunting – Young Embroiderer's First Project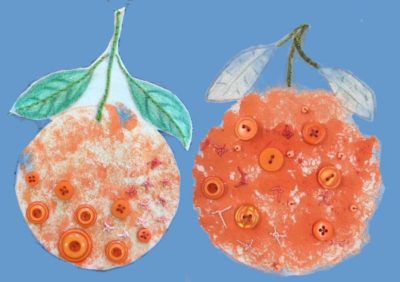 Their October meetings saw the start of a Fruit Bunting creation by the young embroiderers.  Creating an orange involved numerous steps:
sponge painting of the fabric,
adding buttons & beads for texture, and
learning to use knot stitch to decorate the leaves & stalks.
The Group's next meeting is on NOvember 25th when they will be:
making some unusual & interesting Christmas decoration,
getting to grips with a folded paper technique, and
planning the next project for the fruit bunting.
Why not come and join them,  the Young Embroiderers Group is open to boys and girls aged 8 to 14. The group meets once a  month at St Mary's Church Hall from 10am until 12.30.  Jill Carter leads the group with support from volunteers. All of the team are members of the Embroiderers' Guild and are DBS checked.