Crime Update – theft & car keys
Most of January & February was crime free, with just one minor crime, theft, reported occurring on 1st February.   There have been two information releases, however, one referring to the risks of car key burglary and the other inviting the public to participate in a consultation exercise being undertaken by Essex County Fire & Rescue Service into the three options they are considering for the future shape & role of the service.
Theft from a Motor Vehicle – Nayland Road
Overnight on 1st February, unknown suspects removed a rear registration plate from the victim's vehicle without causing collateral damage.
Information Releases
Car Key Burglaries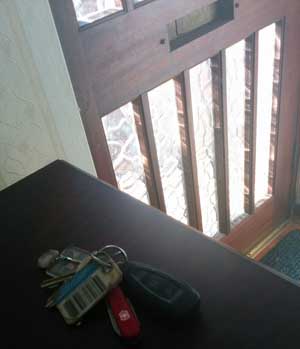 In some cases burglars are breaking into houses while you sleep with the intention of finding your car keys and stealing your car and any other small items they find on the way, what can I do?
Firstly before you turn in for the night check that all doors, ground floor windows and easily accessible windows are closed and locked.
PVCu doors – don't forget that the door is not fully locked until you have lifted the inside handle and turned the key or thumb-turn. When replacing a Europrofile lock cylinder ensure that you get a TS1007 three star anti-snap, anti-bump lock cylinder.
If you have an intruder alarm and can do so activate the downstairs zone when you go to bed.
To stop the burglar getting to the vulnerable windows and doors to the rear ensure that side gates are closed and locked.
Please also ensure that you put your car keys somewhere safe and out of sight, when you return home. Put your car keys in a drawer (preferably one that is noisy to open) or some other secure place, but don't take them up to the bedroom with you.
If you have cars of different values, please park the higher value car in your garage.
If you can't do this, please park the lower value car in front of the higher value car, as the thieves are more likely to target high value cars and will be deterred if they can't easily drive such a car away from the scene.
With high value cars consider the fitting of a tracking system, word of caution you get what you pay for, look for a system that uses RF frequency, 3 or 4G phone networks SIM as well as satellite connection GPS. There are even systems where you can
"Geo-fence" the vehicle location so that if it moves beyond this the tracking system is activated.
For further crime prevention advice contact your local Crime Prevention Officer using the police non emergency number 101.
Essex County Fire & Rescue Service Consultation
The second stage of the consultation exercise on the future shape and role of Essex County Fire and Rescue Service (ECFRS) has begun.  Three options for change have been formulated and ECFRS are now seeking your views on these.
Over the last decade, the Service has seen the number of incidents it attends reduce by around half. At the same time, the Service has increased its work on preventing fires and emergencies from happening in the first place.  This consultation concludes on the 25th of April.  As part of this Public Consultation Exercise there will be a series of events held at libraries across the County, including Southend and Thurrock, where people will be able to talk to Service managers about changes and options proposed in their local area, as well as fill out the survey.
A full list of dates, times and venues for these events is below:
Monday 29th February 2016 Harlow Library 2pm-7pm
Tuesday 1st March 2016 Harwich Library 1pm-6pm
Thursday 3rd March 2016 Loughton Library 12pm-5pm
Monday 7th March 2016 Dunmow Library 1pm-6pm
Tuesday 8th March 2016 Waltham Abbey Library 12.30pm-5.30pm
Thursday 10th March 2016 South Woodham Ferrers Library 1pm-6pm
Monday 14th March 2016 Basildon Library 12pm-5pm
Tuesday 15th March 2016 Clacton-on-Sea Library 12pm-5pm
Thursday 17th March 2016 Braintree Library 12pm-5pm
Monday 21st March 2016 Grays Library 1pm-6pm
Tuesday 22nd March 2016 The Forum, Southend 2pm-7pm
ECFRS would like to invite you to participate in their consultation and would also be grateful if you could help them to encourage participation in the consultation through sharing/publicising the online questionnaire available via their website www.essex-fire.gov.uk and the library events.