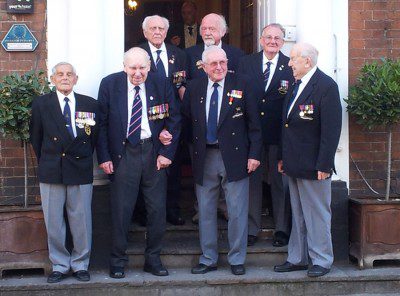 Stormy Fairweather's Award
Clifford "Stormy" Fairweather awarded the Ordre National de la Légion d'Honneur
Clifford "Stormy" Fairweather is a local resident and President of the V&W Destroyer Association; the V & W Class Destroyers were built at the end of WW1 and were certainly not state of the art by the time of the Normandy Landings.  Stormy will be lighting the Beacon at Orpen Hall for the Queen's 90th Birthday on 21st April.
The award was made in recognition of his acknowledged military engagement and steadfast involvement in the liberation of France during the second world war.  On the 70th anniversary of D-Day in June 2014 France's President François Hollande pledged to honour all British veterans who served in France during the Second World War.
You can listen to "Stormy" describe his time on HMS Westcott during the D-Day landings in Normandy and, fellow V&W Destroyer Association member, Peter Scott describe his time as a Navy telegraphist on Gold Beach during the D-Day landings in an interview recorded by Bill Forster.
An application form is available on the MOD web site for any veterans, including Royal Navy and Royal Air Force personnel who operated in support of the landings, who have not already received this award from the French government, or have not been identified to take part in award ceremonies during the events in Normandy. In the section headed "reasons justifying the proposal", brief details should be given of service in France or with the invasion fleet.