Lexden Road Closure – Buses Update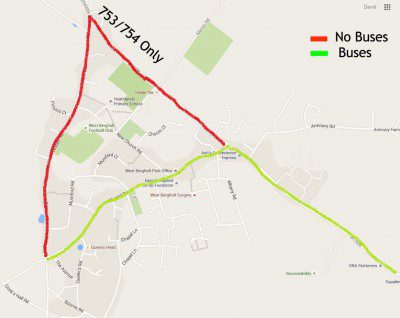 Following further discussions with bus companies we are now able to provide a fuller update on bus routes and stops in use whilst the sewers are repaired in Lexden Road (expected to be until Wednesday 9th September but could be longer).
All buses that would normally complete the "West Bergholt loop" will now be running up and down Chapel Road only, using Mumford Road and Donard Drive to turn around.  Only the Chambers 753/754 will continue along Colchester Road as a whole, the other buses will not be running along Lexden Road or the top part of Colchester Road by the Treble Tile (see map).
The following bus services will be affected:
17 – Hedingham School Service – West Bergholt to Stanway School
755 / 756 – Chambers School Service – West Bergholt to Norman Way Schools
66 – First Essex – West Bergholt to Colchester/Old Heath
67b – First Essex – West Bergholt to West Mersea
Please wait for your buses at the waiting areas along Chapel Road and only the part of Colchester Road past the roundabout to the Maltings where the school buses would normally stop.