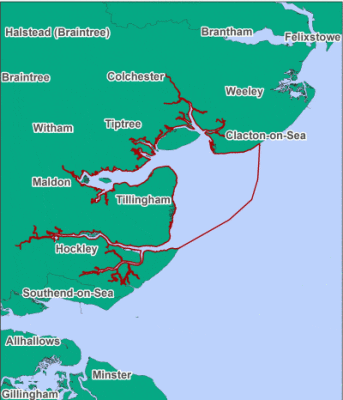 The impact of challenges facing the Blackwater and Colne estuaries now and in the future.
Graham Underwood, Professor of Marine and Freshwater Biology at the University of Essex, is speaking in West Mersea on 20th January on the subject of 'The ecology and future challenges to the Blackwater and Colne estuaries'.
The estuaries, which are a significant feature of the Essex coastline, have been extensively studied over the past 40 years. The talk will summarise the current state of the ecology of these important coastal habitats, and consider the impact of ongoing environmental changes such as climate change on their future functioning.
Professor Underwood has himself been researching this part of our coast for the past 23 years.  He is an expert on coastal and shallow marine systems and has undertaken research on rivers, seas and lakes from the tropics to the frozen oceans. He has been a member of the Government's Scientific Advisory Panel for Marine Conservation Zones which recommended the designation of the Blackwater-Colne estuaries as a MCZ. He also sits on various boards of the Natural Environment Research Council and is currently a member of the Environment Agency's Regional Flood and Coastal Committee. Professor Underwood is Executive Dean of Science and Health at Essex University.
Chair of the Blackwater Against New Nuclear Group (BANNG), Professor Andy Blowers, who will chair the meeting, said:  'We are delighted to bring Graham Underwood to Mersea to enlighten us on the present and future state of our rivers and the challenges they face. One of our major concerns has been to protect the marine environment from the threats posed by nuclear reactors and radioactive waste especially in an era of sea level rise and warming inevitably resulting from climate change'.
The meeting will be held at the Museum, High Street, West Mersea at 7.30pm.  (Entry £3 including refreshments.)