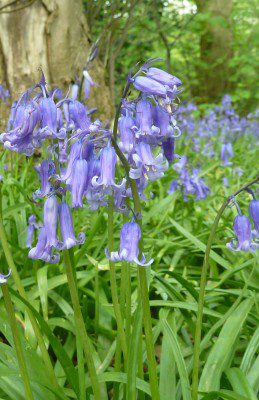 Steve Hallam lead the annual Spring Nature Walk as the Friends of Hillhouse Wood held an Open Day last weekend.  His report of the walk is as follows:
Greater Stitchwort & Folklore
According to ancient folklore it is bad luck to pick Greater Stitchwort because doing so can cause thunder storms.  Ten minutes before I was due to lead a nature walk on 4 May it appeared that someone had been harvesting the plants growing in abundance along the track.  Because the sky darkened, the wind blew, the rain hammered and the thunder rolled.  Perfect!  All present were grateful that the Friends have the most substantial gazebo in town.
Spring weather being what it is, by departure time the sun was out again.  And we had a 'full house' of 23 walkers, which was very heartening.  Although this spring nature walk is traditionally about the Bluebells, the late season this year meant that these were still not at their best.  However this same situation meant that the flowering of many flowers has been squeezed together, increasing the variety of what could be seen.  This walk was very much about flowering plants.
As we walked down the track we found both species of Deadnettle, the ubiquitous Greater stitchwort (which everyone was forbidden to pick!), Ground ivy, the first half open Cow parsley flowers, Dandelions and daisies, Lesser celandine, the first few Red campion, Groundsel, dock, plantain and a 'taster' of Bluebells.  In contrast bird activity was restricted to just one or two Blue Tits.  Having made great play of how we are now seeing Buzzards quite frequently it was inevitable that the number of Buzzard sightings on the walk was …. none.
Wood anemones & Lady's Smocks
As we entered the wood we were welcomed by a beautiful spread of Wood anemones, which were just about to finish.  Turning right we passed the first few delicate Lady's smocks before getting to arguably the highlight of the walk – this year's display of Early Purple orchid.  I am sure that there are more flower spikes each year, and this year they were the most dense yet.  A spectacular show, that everyone rightly took some time to file past.  While the group were interested to know that orchids were once used as a source of aphrodisiacs, some members gave the impression that they would rather not have been told why this was.
No longer elusive newts
Further on round the pond we found some lovely groups of Primroses and a few Marsh marigolds.  I loudly informed the group that 'you can see lots of Pond skaters and Whirly-gig beetles in the pond.  There are newts too, but you never see those'.  To which a lady replied 'Look, there are a load of newts!'  And so there were – floating motionless in clear view just below the surface.  What do I know?  I suspect that they were sunbathing.
As we descended the hill towards the stream I stopped to show the group a good place for hearing Nightingales and warblers (there were just one or two snatches of Nightingale song, but not enough for the group to latch on to).  As it happened there was another item of interest just by the path here, namely a Badger latrine.  However before I could explain what this area of disturbed earth was, some of the group moved to stand in the middle of it.  Whoops!
Garlic & Crab Apple
We moved on to see the wood's Ramsons, near the stream at the bottom.  Only a few flowers were out, but the garlic scent was as strong as ever.  Further round we found a Crab apple coming into blossom.  When we arrived at the bottom pond it was the turn of the birds to provide some interest.  Several members of the group were able to see one of our resident Nuthatches as it fed on one of the large Ash trees.  This species is scarce in this part of Essex, so we are lucky to have some in Hillhouse Wood.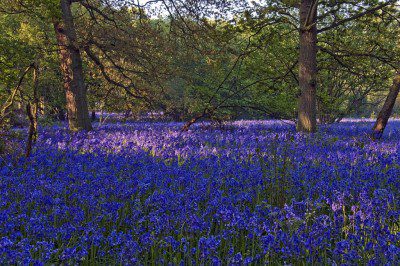 Impressive expanse of blue
Next up was the main Bluebell glade.  even though they were still a few days from being fully open, the expanse of blue was still impressive.  On the way back we found one of the few remaining patches of the easily overlooked Saxifrage, a few clumps of Wood sorrel, and a decent sized area of the bizarre Moschatel.  This tiny green flower is unique.  It has a symmetrical flowerhead that is comprised of four angular faces with a fifth one at a right angle on the top.  As a result it's vernacular name used to be 'Town Hall Clock'.
Steve expressed many thanks to Linda Firmin for taking the time to show him several of the less obvious features of the wood.