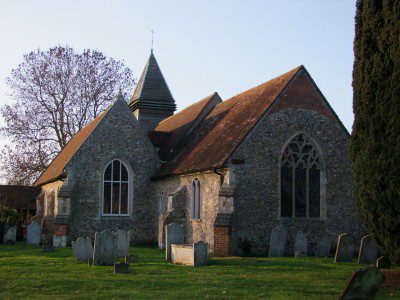 Keep the Bell Ringing
Friends of St Mary's Old Church have launched the "Keep the Bell Ringing" appeal for £10,000 .
Why £10,000?
Our 1,000-year-old West Bergholt Old Church in Hall Road is now in need of serious care and attention to give it the chance to continue another 1,000 years.   Its roof is leaking in 2 places requiring repair of the valley gutter and dormer window, and the belfry needs work on its weather cladding.  The estimate of cost for this external work, by the Churches Conservation Trust which now cares for this redundant church, is an eye-watering £127,200.  The CCT secured grant funding for most of this sum, but we have to raise the funding shortfall of £10,000 locally.
How you can help
We need your help!  The plan is to erect scaffolding and do this specialist work next Spring, so we need to raise the funds quickly to make this happen.  To confirm the grant the donors need to see that we can raise our share of the money.
We will ring-fence all donations to this appeal, you could help us in the following ways:
Firstly make a donation either:

by cheque to the 'Friends of St Mary's Old Church" sent to our Treasurer: Rhys Lloyd, 4 Coopers Crescent, West Bergholt, CO6 3SJ.
by electronic transfer online to a/c no. 65515734, Sort Code 09-92-99. Please indicate who the donation is coming from.
through justgiving.com: to the " St. Mary's Old Church West Bergholt" appeal.

Next, consider coming to the events we are planning this autumn:

Table Top Sale: Saturday 19th November at the Orpen Hall, 10am-2pm at the Orpen Hall.  We will be serving Light lunches and refreshments.  Call Gill Poole on 240512 to book a sale table.  Entrance 50p.
Mulled Wine and Mince Pies in the Old Church – Sunday 11th December from 12.00 – 2.30pm. Come and admire the Christmas trees decorated by various village groups, and meet friends and neighbours.  This is a free event but donations will be gratefully received, and memberships (just £5), renewed.

Buy our Christmas cards of the Old Church:

at our events,
the local shops, or
from Teresa on 241878 or Jane on 240167. 6 cards for £3.50.

Become a Friend of St Mary's Old Church or renew your membership (just £5). Phone Rhys or Carrie or visit the church for details.
Make your friends aware of our Appeal; also that the Old Church is open to visitors from 10am – 4pm every day.
Hold a fundraising events or help us with one of ours. To offer help, please contact Jane or Carrie.
Internal works as well
While this external repair work is undertaken we will also carry out urgently needed plastering work and decoration inside the church. This will be funded by the very generous legacy of Mrs Yvonne Henderson which was left specifically for this purpose.
Thank you for reading this appeal.  We hope you will be able to help us preserve our lovely ancient church for future generations and keep it available for the use of our village.   Please be as generous as you can.
Celebrate Christmas with us
Start your Christmas celebrations this year by coming to the 2016 Candlelight Carol Service at the Old Church on 18th December at 2.30pm.
Contacts