January Crime Incidents
With the first couple of weeks seeing no reported crime in and around West Bergholt, the latter part saw little more:
Theft from a vehicle on the A12
Taking place on 13th January this involved a parked, secured, lorry on the A12, outside West Bergholt, which had the side curtains slashed and items removed.  Probably of no more than passing interest to residents (sorry).
Criminal Damage to a Vehicle in Mumford Close
Overnight on 23rd January the rear nearside door of a car was dented by unknown person and object.
Criminal Damage to a Vehicle in Mumford Close
Overnight on 28th January an unknown person scratched the full length of both nearside and offside of a parked vehicle.
Theft from a Vehicle in Chapel Road
Overnight on 29th January an unknown person gained entry to an insecure vehicle and following a messy search removed items.
Information Releases
Essex Police often issue information & advice updates with their crime reports, the following few about Alarms, Burglary facts and Microsoft scams have recently been received.
Intruder Alarms and/or CCTV
Please note that Essex Police do not recommend any particular product or supplier.
If you are considering an intruder alarm system it is advisable to seek advice from installers who are members of a professional body, such as: –
National Security Inspectorate, Sentinel House, 5 Reform Road, Maidenhead SL6 8BY Telephone: (switchboard): 01628 637512 – www.nsi.org.uk
SSAIB The Smoke Houses, Cliffords Fort, North Shields, Tyne & Wear NE30 1JE Telephone: 0191 296 3242 – www.ssaib.co.uk
British Security Industry Association (BSIA), Kirkham House, John Comyn Drive, Worcester, WR3 7NS – Telephone 0845 389 3889 – www.bsia.co.uk
For other security products that have 'Police Preferred Specification' status visit Secured by Design – www.securedbydesign.com
Systems should be fitted to British/European Standards – www.bsi-global.com
Always get at least 3 different approved installers to give you quotes before you decide.
Systems can be monitored at special centres (Alarm Reporting Centres), for a fee.  Reputable installers will give you more information on this, including an alternative option to link the alarm to alert mobile telephone numbers selected by you.
Essex Police respond to monitored alarm systems in accordance with guidelines issued by the Association of Chief Police Officers (ACPO) – www.acpo.police.uk   Phone 020 7084 8950.
Generally, Non- monitored alarm systems are not responded to unless the person reporting the activation says that an intruder has actually been seen to enter or be on the premises.
The speed of police response cannot be guaranteed. It will depend upon the number, location and availability of police units when the call is received and a police assessment of the threat level.
DIY outlets often sell intruder alarm systems. However, bear in mind that these are normally non-monitored systems. False activations can annoy neighbours and result in action by the Environment department at your local council. If you have one of these systems you need a trusted friend, neighbour, or family member who lives close by and can deal with activations in your absence.
Some systems can be linked to your telephone and programmed to alert specific personal telephone numbers (normally up to 6) if activation occurs.  Your telephone provider may make an extra rental charge for this facility. You will probably still need a trusted local person to respond in your absence.
Some mail order type companies market a whole range of alarms. You can see examples of these on web sites such as: –
(There are other providers).
Generally speaking, any intruder alarm is probably better than none. However, your choice should always be based on the following considerations: –
Is it appropriate?
Is it realistic?
Is it cost effective?
What am I trying to protect?
The above information is a basic summary of intruder alarm systems.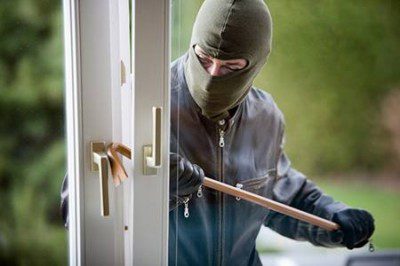 Burglary Facts – Did you know?
35% of all burglaries are crimes of opportunity, where the burglar lets themselves in through unlocked doors or windows.
You are ten times more likely to be burgled if you don't have basic security – even something as simple as putting strong locks on your doors and windows will keep your house much safer.
Burglary has fallen by nearly 60% since 1995, but criminals are opportunists who will take advantage of any chance to steal from you, so you should remain aware.
Burglars generally prefer empty properties, often looking for visual clues such as an empty drive and dark homes so any lights, televisions and radios left on are usually off-putting for burglars.
A common tactic employed by homeowners to make the house look occupied, leaving the curtains closed, actually encourages burglars who believe it indicates the occupants are on holiday.  If the property is going to be vacant for an extended period, ask a trusted neighbour to open and close curtains, collect milk from the door step, turn lights on and off, and remove unopened post that is visible etc. so that the property continues to look occupied.
Burglars are attracted by the sight of valuables, including car keys. They spot these by simply looking through windows and doors. Householders need to be careful about the type of goods that are on display.
Generally, burglars like to access property from the rear as it offers a safe environment. Having adequate fences and locked gates can make this a less inviting opportunity.
If you make your property more secure, it's a lot harder for criminals to break in and it's easier for police to catch them. For more crime prevention advice, go to http://essex.police.uk/be_safe.aspx.
Microsoft Cold Calling Scam
The Neighbourhood Watch Liaison Officer has been made aware that persons are cold calling by telephone offering computer repairs, stating your computer has a problem with Microsoft.  Advice has been sought from Microsoft and they have given the following advice.
Neither Microsoft nor our partners make unsolicited phone calls (also known as cold calls) to charge you for computer security or software fixes.
They have advised that further information regarding how to avoid Phone scams can be found on the below website:
If anyone has been caught out by these types of callers they can report it directly to www.actionfraud.police.uk or by telephone 0300 1232040