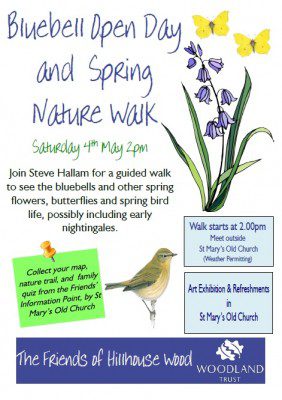 The Friends of Hillhouse Wood's popular Bluebell Oen day and Spring Walk is taking place on Saturday 4th May, a week later than originally intended, due to the wet winter and early spring.
The guided walk will be lead by Steve Hallam, starting outside St. Mary's Old Church, Hall Road, at 2pm.  The Friends' Information Point, there from 2pm, will also have a supply of maps, nature trails and family quizzes.
Within the church, refreshments will be provided by the Friends of St Mary's Old Church during the afternoon.  In addition, there will also be an art exhibition there.
Bluebell walks at Hillhouse Wood were recently recognized by The Times as one of the top walks through woods in their Weekend Spring Special on 13th April.
Don't forget to dress appropriately to the weather!