West Bergholt Neighbourhood Watch
The Neighbourhood Watch has no local co-ordinator in West Bergholt at this time.  The Parish Council have identified the need for local Neighbourhood Watch Schemes in their Neighbourhood Planning activities – if you are interested in helping out on this please contact the Parish Council.
The following material has not been updated so please do not rely on it.
Original Entry on this Website
Neighbourhood Watch was formed in West Bergholt in 1987 with just a handful of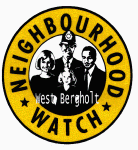 volunteers. In the early years Co-ordinators tended to work on their own and it was not until 1994 that it was decided to work as a team. It was also agreed to expand the operation in the village in order that more areas could be covered.  These decisions have resulted in significant growth in the team which now comprises 27 co-ordinators from all walks of life each contributing to the overall objectives of reducing crime.  The current team covers over 55% of the village, around 750 properties and over 1500 residents.
Anyone who would like to know if they have a co-ordinator covering their area or who would like to join the team should contact either the Neighbourhood Policing Team or our pro tem contact on 01206 241716.  Please also use these numbers if you are aware of any crime that has been committed after first reporting directly to the police where appropriate; we can only help if we know about it!  The Home Office offers the following advice on this:
If you've been the victim of a crime it's really important to report it. We know that sometimes it's not easy to decide to come forward. But we also know that if no one reports a crime, it's as if it never happened.

If no one reports a crime, the criminal is free to commit more crime, damaging more communities and individuals.

It's also important to report crime for your own practical purposes, like getting a crime number from the police so that you can make an insurance claim.
Read more from the Home Office here.

Or, if you would prefer to remain anonymous, then Crimestoppers is a completely independent organisation which allows you to provide the details of a crime, without revealing your identity – call them (it's free), don't just let the criminals win by default.
Anti-Social Behaviour?
Under a new initiative Colchester Borough Council and Essex Police have joined forces to provide you with a direct line to report anti-social behaviour. You can now speak to a team of dedicated specialists who can talk through your problems and deal with your call more efficiently by assigning it to the correct agency.  The ASB hotline number is 01206 282731, it will operate between 8.30am and 5.30pm Monday to Friday. Callers outside these times should leave a message, but urgent calls (i.e. threats to life) should ring 999.
More Information & Contacts
For further information, visit the Borough Neighbourhood Watch web site which includes details of crimes, in addition to lots of useful information. Why not make the decision now to improve the security and safety of yourself and your neighbours? Community policing is back, but will only succeed if it has your full support and assistance.
Other police & related contact numbers are:
Emergency Police Number 999.
Online non-emergency crime reporting – https://www.essex.police.uk/do-it-online/report-non-emergency-crime/.
Non-Emergency Police Number 101.
Community Police Team at Copford use the non-emergency number or ring 01206 210441.
Colchester Crime Reduction Officer 01206 717624.
Crime Stoppers 0800555111.
Anti-Social Behaviour hotline 01206 282731.