First Responders
When a person suffers a cardiac arrest they lose consciousness in a matter of seconds. Unless cardiopulmonary resuscitation (CPR) begins within 3-4 minutes, the person may suffer permanent brain or organ damage.
Community First Responders (CFR) volunteers are trained to attend emergency calls received by the ambulance service and provide care until the ambulance arrives. Volunteers can arrive at an emergency scene in a matter of minutes, as they are sent to calls in their local area.
Make a Difference
Someone in the community & trained in first aid who can reach the patient quickly makes all the difference.
Each volunteer takes it in turn to be 'on call', they can volunteer as little as four hours a month. They carry basic first aid equipment and an automated external defibrillator (AED). The ambulance service controller sends them to Category A (immediately life-threatening) medical calls; they are despatched at the same time as an ambulance and crew and will stay with the patient until the ambulance arrives.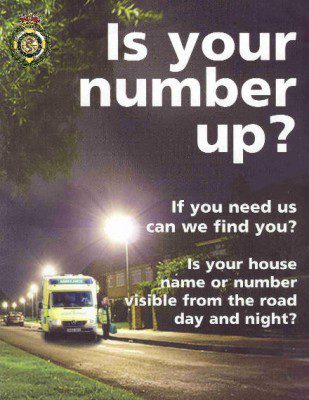 You can help the emergency services to find you quickly, should the worse happen, by making sure your house name/number is clearly visible from the road, even at night.  Every second counts when you dial 999.
Anyone can do it!
Anyone who lives in the area can get involved with a local Community First Responder scheme.  You can be a volunteer, or help with other vital tasks such as fundraising, training or administration. Volunteers do not need first aid experience to join their local unit, as full training will be provided.
So, if you are interested contact the Group through their Facebook Page or by email to [antibot mailto="[email protected]"].