Rogue Traders targeted by Essex Police
This week, Essex Police in partnership with Trading Standards, will be sending messages to help prevent our community falling victim to rogue traders. This guidance is to help you to know how to deter rogue traders from calling at your address and how to deal with them if they do.
Display a 'No Cold Calling' sticker on your front door. These are available from Trading Standards free of charge. Call them on 03454 040506. Southend, Rayleigh, Harlow, Braintree, Basildon, Grays, Clacton, Chelmsford, Stansted Airport and Colchester police stations also have a small supply.  [Ed: or print the one below, acknowledgement to Portsmouth City Council for the artwork.  Click it to open full size image to print.]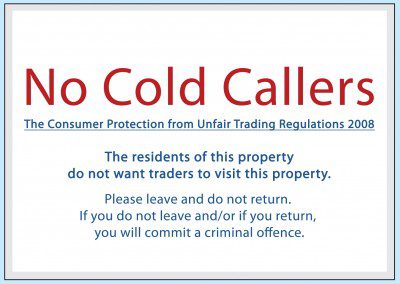 Consider asking a good, trusted neighbour if you can direct unknown callers/ traders to their address for them to deal with. If your neighbour agrees, when an unknown caller arrives at your door show them a card (preferably through the window) with your neighbours address on directing unknown callers there. Do not enter in to a conversation.
Alternatively, if an unknown trader knocks on your door, don't open it unless you use a door chain. They can hear you clearly enough through a closed door but if they insist on speaking face to face, open a small window either upstairs or downstairs and speak through the window. No matter what their sense of urgency is, tell them-
You do not buy goods or services at the door – refer them to the 'no cold calling sticker' displayed on your front door!
You have to discuss it with someone else (for example your partner or son/daughter).
If they are persistent, tell them that if they don't leave you will call the police to discuss the matter with them.
Remember
Your door,
Your House,
Your choice.
Not sure?
Don't Open the Door