Minutes of the Parish Council Meeting
Held in the John Lampon Hall on 25th November 2015 at 7.30 pm
| | |
| --- | --- |
| Chair: | Chris Stevenson |
| Parish Councillors Present: | Andrew Savage, Brian Butcher, John Gili-Ross, Murray Harlow, Jenny Church, Rosemary James and Harry Stone |
| Parish Clerk: | Laura Walkingshaw |
| Borough Councillors: | Councillor Harrington |
| Present: | 3 members of the public, prospective Parish Councillors |
Part I – Public
1.    Receive Apologies
Apologies were received from Bob Tyrrell and Councillor Willetts
2.    Questions from registered electors
No items were brought forward.
3.    Declarations of Interest
Chris Stevenson declared an interest in items relating to Essex County Council, particularly Highway issues.
4.    Minutes
Minutes of the Parish Council meeting held on Wednesday 28th October 2015 were approved and signed with no amendments.
5.    Report for Colchester Borough Councillors
Councillor Harrington reported on a couple of minor issues:
He reminded the Council that he still has a few hundreds of pounds available from the District Councillors' Community Budget, at present, should the PC wish to apply for project funding
He has supplied the Clerk with the details of landowners/householders needing to maintain their hedges along Chitts Hill, to enable her to send them a gentle reminder.
With regards the ground that has been cleared at Hall Road. The Councillor wished to state that the landowner had contacted him as a matter of courtesy, prior to the clearance, in order to notify him in case any members of the public queried the work taking place.
6.    Co-option – Personal Statements and Election
Chris Stevenson thanked all of the candidates for their enthusiasm and asked that they please remain in contact with the Parish Council even if not successful in the following ballot. The number of initiatives being passed to the Council at present is highlighting the opportunity to involve other members of the community.
Mark Pollitt and Philip Spencer then read their personal statements to the Council. Chris Stevenson re-read Phil Cook's statement as he was away. The Parish Council then voted and can declare that Phil Cook and Philip Spencer are now West Bergholt Parish Councillors.
7.    Finance
a) Statement of Accounts for Oct 2015
The final accounts for Oct 2015 were presented as follows:
The General Account showed 94% income, 34% general expenditure, 39% environment expenditure and 35% expenditure overall.
The Hall Account showed 55% income and 43% expenditure.
b) Draw cheques
It was proposed by MH and seconded by JG-R to make the following payments, All in favour:
PAYMENTS LIST

Nov 2015

General Account
Salary Payments to Mrs Walkingshaw and Dave Hewitt
Countrywide
Grass Cutting
145.00
Landscape Services
Flailing Hall, Allotments, Heath & Poors Land
660.00
Landscape Services
Additional Cutting Lorkin Daniell Field
240.00
I M Beckwith
Playground Improvements
489.70
TCV
Pond Clearance
480.00
WB Methodist Church
Bus Shelter Rental
105.00
Chris Stevenson
Survey Monkey Annual Sub
297.48
Laura Walkingshaw
Training Expenses
7.50
EALC
Advanced Councillor Training
70.00
WB Methodist Church
Donation for Hedge Cutting
250.00
CBC
Litter & Dog Bin Emptying
343.20
Norhurst Landscapes
Pond Clearance
120.00
West Bergholt Football Club
Grass Cutting
320.00
Anglian Water
Allotments – Water
332.11
Anglian Water
Poors Land – Water
16.00
David Hewitt
Travel & Other Expenses
85.76
HMRC
Tax & National Insurance
93.20
Orpen Hall Account
Salary Payment to Mrs Beckwith-Cole
A-Z Supplies
Cleaning Products
172.93
V Beckwith-Cole
Cleaning Supplies
3.96
The Fire Extinguisher Man
Service
161.94
GW Comm. Heating Ltd
Replace Mixer Tap JL Hall
223.20
L Walkingshaw
Cleaning Supplies
9.48
Zoe's Cleaning
Cleaning
720.00
Essex Central Services
Windows & Gutter Clearance
80.00
Salary payments were made to Laura Walkingshaw and Dave Hewitt from the General Account and Vicky Beckwith-Cole from the Hall Account.
Community Initiative Fund (CIF), Refurbishment of Orpen Hall Toilets – AS stated that although the Council had not received official confirmation of the CIF fund grant yet it was expected soon, he asked Councillor Harrington for as much as he could spare from the existing funds in the Community Budget. Councillor Harrington requested details of the project, the approximate cost and what match funding was being sourced. AS will provide MH with a copy of the CIF application, which answers all of those questions. The Trustees of the Orpen Hall will also be making a contribution.
c) Accounts/Investments
AS provided a list of the Parish Council's Accounts/Investments. He noted that these figures were quite out of date due to the change of Clerk and the difficulty of accessing the accounts. AS will provide an update in Jan 2016 now that the Clerk has recently been provided with online banking access. AS stated that some of the monies held in the Orpen Bequest account, which is to be used for improvements inside the building, might be useful for the toilet refurbishment.
d) Budgets
AS provided proposed budgets for both the General and Hall Accounts for 2016/17. These projections, which rely on moving some money from the Projects, Grants and Donations budget would result in a Precept increase of just under 4%. Once the figures arrive from the Borough Council AS will be able to come up with different scenarios and adjust the projected figures, then the Parish Council can decide how much Precept to ask Colchester Borough Council for at the January meeting.
JG-R would like to lose some of the historical items in the Environment section, he will bring forward recommendations of which lines to AS.
CS suggested that it would be useful to have a list of Projects, Grants and Donations. Historically, there were grants available for our projects but we now have to finance these ourselves and therefore planned into expenditure and it would be good to have these listed.
[Click to view: Summary Accounts October 2015]
8.    Recording of Parish Council Meetings
Attached Appendix 1 – Report by Chris Stevenson
CS reported that having attended the EALC AGM he was introduced to a stand-holder supplying Audio Recording of Council meetings. In his report CS sets out the background, advantages and financial & legal aspects of recording West Bergholt's Council meetings. Councillor Harrington stated that the Borough Council have been recording their meetings for a while and that it is very clear, picking every comment up, although it can initially lead to a lack of spontaneity, after a while it's easy to forget it is there.
Agreement required from the Parish Council in principle:
to introduce audio-recording of its main meetings and also that of the Planning committee meeting.
that the Clerk be authorised to investigate the practical, financial and legal aspects of introducing this and check with AS.
assuming all assurances are satisfactory to arrange a draft contract with Audiominutes to provide the service and to seek authorisation from a future meeting of the Parish Council.
HS Proposed, CS Seconded, All in favour.
9.    Clerk's Items to Note
Attached Appendix 2 – Clerk's Report
Clerk to include any communications from NALC or CALC in her items of note.
10.   Training Courses
a) Advanced Councillor Day 1 – Brian Butcher
Good course lead by Joy Darby. First day of two, morning session on the art of communication, afternoon session on managing projects.
b) EALC/ SLCC Networking Day – Laura Walkingshaw
Useful joint day between EALC and SLCC. First part dealt with the transparency code for Councils under £25,000, which didn't apply to West Bergholt. Second part was a talk from Shirley Anglin of ECC Public Rights of Way, which informed the Clerk of the local inspector's details, who to contact and the availability of cutting schedules. Interesting points also on Service Level Agreements and the online maps available.
c) Training Course Recording
Clerk will now be recording all Councillor and staff training courses on a spreadsheet. All copies of attendance to be sent to the Clerk. Clerk to check whereabouts of previous course folder.
11.   Planning
a) To note the decisions made on Planning Applications at the Planning Committee held on 16th November 2015:
152350 – Scarletts, Scarletts Close – Observation – The Parish Council would look to the Borough Council to discharge in line with their policies.
152329 – Rosaville, White Hart Lane – Support – The Parish Council has no comment.
152337 – Horsepits Farm, Cooks Hall Road – Observation – The Parish Council will be guided by the Borough Council's policies regarding this matter.
152396 – Crockeys, Chapel Lane – Support – The Parish Council has no comment.
152502 – 40 Pirie Road – Support – The Parish Council has no comment.
BB noted that an appeal has been granted by the Planning Inspectorate for the planning application relating to 49 Lexden Road, to which both the Parish and the Borough Council had previously objected.
b) Feedback from meeting with Borough Planner
The Planning Committee had a very positive meeting with a Borough Planning Officer, notes from which are attached to the Planning Minutes of Nov 16th 2015. Both sides gained from the meeting and it was agreed to get together again in six month's time. Councillor Harrington was happy the meeting had been so positive, but was concerned that the Parish Council did not receive the applications within sufficient time to deal with them. It was agreed that the Clerk would log all future applications, due dates and time received so it would be possible to cross check them with the Borough Councillor.
c) Neighbourhood Plan – Report
Neighbourhood Plan held their first AGM on Nov 4th 2015. They elected the Steering Members, BB was elected Vice-Chair, Phil Cook elected Editor and the Constitution was agreed. CS presented an outline timetable, which illustrates that after the Plan is submitted, there is at least another year where it is not under our control, while being reviewed by other authorities. The prize draw was made and the hamper awarded by the Co Op. Have had a very good response to the RCCE Housing Survey. BB has had a very good preliminary attempt at the SEA (Strategic Environmental Assessment). The Memorandum of Understanding with CBC has been emailed to all members, CBC are happy with it. Rachel Forkin, from CBC, will be attending one of the meetings in the near future.
The Clerk to publish the Neighbourhood Plan Notes now that a Constitution as been agreed.
12.   Environment and Highways
a) Second handyman – Agreement required
It was proposed by BB to employ a second handyman for 8 hours a week initially on a 3 month fixed term contract, seconded by JG-R. All agreed.
b) Safety clothing – Agreement required
It was proposed by AS to buy three high viz jackets, two trousers and safety boots for use in cold weather (two jackets for Handymen and one to be kept in boiler room for Councillor when required), seconded by HS. All agreed.
c) JG-R reported that the 2nd stage of trimming the trees around the Lorkin Daniel Field was taking place, MH has received several quotes. It was agreed to approve this work up to budget value as there is no meeting in December, however the work needs to be completed now.
13.   Premises and Recreation
a) Hall Cleaning – Signing of Cleaning Contract
Brian Butcher read a short statement on the events that lead to the engagement of Zoe's Cleaning and then the cleaning contract was signed by Chris Stevenson, Chair, in front of the other members of the Parish Council.
b) Extra Skip Collection – Agreement required
The skip outside the Orpen Hall has been overflowing on a regular basis, resulting in the Hall Administrator taking the excess to the tip. It was proposed by AS to pay for an extra collection of rubbish each week, seconded by BB. All agreed.
c) Lorkin Daniell Grass Cutting – Signing of the Agreement
The agreement to pay West Bergholt Football Club to cut the grass on the Lorkin Daniell Field was signed by Chris Stevenson, Chair.
d) Tile Replacement – Orpen Hall Roof
Agreement was sought to replace several broken tiles on the Orpen Hall Roof, BB has had a quote from Rose Builders for £250+VAT. AS proposed, JG-R seconded, all in favour.
BB also informed the Council that the pest man had been in to eradicate rodents in the garage storage units, the Handyman will be replacing the airbricks to prevent future entry. BB will be attending a meeting with BHYFC on Tues 1st Dec and a meeting with the Hall Administrator on 10th Dec.
14.   Communications
Working Party – Update
Attached Appendix 3 – Rationale & draft scope of work by Chris Stevenson
The initial work of the working party has identified that there is a difference between communicating with the various groups and engagement, often communication is limited to contractual matters. Proposals should be outlined by the working party in January, ready for discussion at the February Parish Council Meeting.
15.   Parish Safety Volunteers – joint initiative from Essex Fire & Police Services
Attached Appendix 4 – Parish Safety Volunteers: Essential Information
The joint initiative has asked that the Parish Council to put up the publicity relating to this and would like an ongoing role with the Council. JG-R informed the Council that this had been trialled in Tendring, where they looked for people to volunteer, gave them training and provided them with kit to fit in the houses of less-abled people. CS suggested that the Parish Council should support this project as an enabler, this being a prime area for certain clubs in the village to support e.g. WI, Care Network, Methodist Church and 5 T's. Items 6 and 7 in their publicity relate to the dialogue between the volunteers and the Parish Council. It was thought to be a good item to put forward to the Annual Meeting for discussing with the wider population.
Items to Note
EALC – Legal Update – October 2015
EALC – County Update – Sept/Oct 2015
Bulletin – War Memorials Trust – Nov 2015
Crime Statistics – Oct 2015
RCCE Christmas Coffee Morning – 14th Dec 2015
Superfast Essex Parish Engagement Event – 9th December 2015
Clerks & Councils Direct – Nov 2015
The Clerk – Nov 2015
Part II – In Committee
Matters taken in the absence of Press and Public (Public (Admissions to Meetings) Act 1960) as the item contains exempt information as defined by the Local Government Act 1972 Sch. 12a Pt (1).
a)   Report on Personnel Matters
Item 1 proposed by AS, seconded by BB. All in favour.
Item 2 proposed by AS, seconded by JC. All in favour.
Item 3 proposed by JG-R, seconded by AS. All in favour.
b)   Trustees of Village Green
JG-R proposed to support the proposal, MH seconded. All in favour.
Date of Next Meeting
Wednesday 27th January 2015 at 7.30 pm
The meeting closed at 9.45pm.
Signed:                            Date:                              Position on Parish Council
Appendix 1
Agenda Item 8: Proposal for Audio Recording of Parish Council Meetings
1.   Introduction & Recommendations
This report covers the proposal to audio-record Parish Council meetings.
It recommends:
That the Parish Council agrees in principle to introduce the audio-recording of its main meetings and also that of the Planning Committee meeting
That the Clerk be authorised to investigate the practical, financial and legal aspects of introducing this and
Assuming all assurances are satisfactory to arrange a draft contract with audio-minutes to provide the service and to seek authorisation from a future meeting of the PC
2.   Background
Many local authorities now record and broadcast their proceedings via audio and video means. Some do this live via webcam broadcasts, whilst others record audio content and make this available via their web sites following the meeting. This initiative is part of open government, and makes the work of the Council meetings more accessible to all, as well as providing an accurate transcript of the meetings themselves.
The means to make this initiative affordable and practical has recently been offered to the Parish Council as part of a wider arrangement endorsed by Essex County Council and a supplier providing this service to the County Council. These aspects are described in outline below.
3.   Proposal
The proposal would be to audio-record the PC and Planning meetings with the recording stored on a website for retrieval and downloading by the public.
An illustration of the equipment used is contained in the appendices. The audio-recording is capable of being subdivided into agenda items so that it becomes easy to search for individual items when listening to the recording. In essence the service works by
Connecting a smartphone to a microphone and recording the meeting
Uploading the audio recording to a dedicate website
Making the recording available through links from the village website and also via Facebook as deemed appropriate
The service is available from a company marketing itself as audio minutes. A flyer advertising their services is also in the appendices.
The company are backed by Essex County Council and a discount is available should the PC decide to go down the route of introducing the service.
It is not proposed to do video recordings, or to make the recoding a live broadcast. These aspects could be included at a later date if we saw the need.
4.   Advantages of an Audio-recording service
There are many advantages to introducing such an initiative. These include:
Having an accurate transcript of the meeting available in perpetuity
Ability to make the recording available to the public on demand in case of queries
Ability to make the work of the PC more accessible
In fact in terms of transparency it demystifies the whole democratic process of debating and making decisions!
Are there any disadvantages? In short no, our meetings are all open to the public in any event and we have good processes, protocols and procedures which already ensure an orderly and well- presented meeting.
5.   Financial aspects
The service is not free. Information supplied suggests that in the first year the service will cost just £15. Subsequent years will attract a fee of £150 pcm. This seems a reasonable cost to pay for so useful a service.
On top of this there are one-off costs of obtaining an android smartphone phone, a quality microphone and usb cables and adaptors. These costs are around £100 but may be less if a smartphone is available locally for use as may well be the case. No sim card or phone contract is necessary as the smartphone would access the website via the wireless network connections we already have.
Are there other suppliers in the marketplace? Almost certainly yes, however audiominutes are endorsed by the County Council and their services are used by many other PCs, so it is recommended that a quality check is carried out by the Clerk prior to a final order being placed.
6.   Legal aspects
This aspect will be checked out by the Clerk. Suffice to say that it is legal both for the PC and indeed those coming to the PC meetings to record proceedings as long as this is made public knowledge at the meeting. A further advantage of having the proceedings recorded, is that should any member of the public chose to make their recording available perhaps out of context then we would have the ability to put the record straight if required.
7.   Conclusion
Recording our meetings to make their content more accessible to our community and providing an accurate transcript of proceedings are all part of becoming a more open and transparent Council. Our community also expects to be able to gain access to our meetings and decisions via different means using technology available to most individuals, on demand and retrospectively. Given the pressures of modern life and the reduced ability of people to be able to attend meetings as perhaps they would like to or may have done in the past, this initiative is a small but important step in creating access to our work.
The service is available at a modest cost, endorsed by the County Council, used by many other Parish Council's in Essex and the practical aspects seem manageable.
Accordingly it is recommended that the Clerk takes this initiative a step further by making contact with the company and taking the necessary steps to provide financial and legal assurance to its efficacy and introduction.
Appendix 2 – Clerks Report – West Bergholt Parish Council
| | | | | | |
| --- | --- | --- | --- | --- | --- |
| Meeting Date | Agenda Number | Minute Reference | Information and decision made | Action taken and outcome | Date note closed |
| 23/09/2015 | Sept 2015 | 9c | Welcome Pack – MH & LW in process of making welcome pack | LW & MH to meet in Dec to review pack. | |
| 28/10/2015 | Oct 2015 | 6 | Overhanging hedges along Chitts Hill | Clerk needs to check if letters have previously been written to relevant householders & report back to Councillor Harrington. | |
| 28/10/2015 | Oct 2015 | 8c | Agreed to transfer £5000 from un-earmarked balance to roof funds | Mandate change completed – Clerk now has access to online banking. Clerk to transfer funds later this week. | |
| 28/10/2015 | Oct 2015 | Part II | Appraisal forms required for staff | Clerk to create Appraisal Forms over next month. | |
Appendix 3
Communications Working Group
Rationale and Draft Scope of Work
Report by Chris Stevenson, Chairman of Parish Council
1.   Introduction
The Parish Council presently takes the lead in enabling the community to interact and spread news stories:
It does this by
Having a dedicated Communications Cllr
Sponsoring the Village Bulletin
Promoting and supporting the Web site/Facebook
Periodic newsletters
The work of its committees
The availability of the PC main meeting – have your say
In addition the Premises Committee has oversight of interaction with
Allotments
Social Club
Football Clubs
Orpen Players
Pre School
Scouts, Guides etc
MUGA
BYG
There are also ad hoc arrangements for liaising with the School and other village organisations as the need arises.
Whereas these activities cover the day to day interactions between the PC and the Community some of these are the PC in its role of enabling and managing. The purpose of the working group is to look for gaps in our communications work and to look at the whole arrangements of village engagement. It has also been noted from attendance at recent Cllr Training Courses that having a Communications Policy and Plan are increasingly important aspects of the Council's work plan.
The working group consists of the Chair and Vice Chairs plus the Communications Officer
2.   Scope of work
Following an initial meeting the working group "brainstormed" the matter and arrived at the following long list of ideas to examine the following lines of enquiry split between the PC's own communications activity about its work and role and the wider matter of communications across the community.
Ideas and questions around the PC's own Communication activity
Do we need and what would be the purpose of a communications strategy for the PC?
Do we need a more specific annual plan of action?
What methods of communication do we need?
What is our audience?
Do our present arrangements for communications under the Premises Committee have sufficient time to carry out the general as well as the specific remit?
Should P Cllrs visit village organisations to introduce themselves and the work of the PC to learning more about a particular organisation and feeding back to the PC as appropriate i.e. making it a mutually beneficial experience?
Wider Communications in the Village
How do village organisations communicate within and across their membership?
Is there a need to encourage horizontal communication across organisations?
What is the role of the PC in encouraging wider sharing of ideas and activities?
How about the idea of a Village Forum made up of one or two P Cllrs and representatives of the other organisations
What is the distinction between communicating the work of the PC, enabling communications in the village through our function and having a village forum to join up the activities of the many clubs and societies we have in the area?
The PC as a whole is invited to add or perhaps prioritise the items above.
Some of the generality of the above is displayed graphically in the appendix.
3.   Timetable
The anticipated time table would be:
The working party to meet again in December to refine the scope
For proposals to be outlined in January
For a proposal and plan to be discussed at February's PC meeting
Appendix showing relationships sought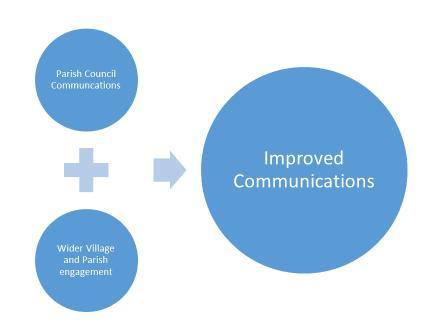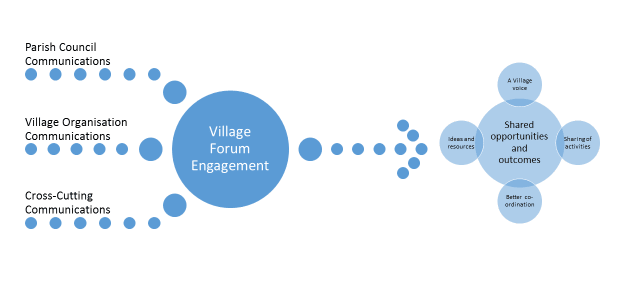 Appendix 4
Essex Fire and Rescue Service | Parish Safety Volunteers
Parish Safety Volunteers
Essential Information
This document is designed to provide a broad understanding of the Parish Safety Volunteer Scheme. If you have any further questions or comments, please email [email protected]
1. What is the purpose of the Parish Safety Volunteer Scheme?
The purpose of this initiative is to make local communities safer, more resilient and better protected from fire and crime. It will do this by:
Reducing accidental dwelling fires in the parishes in which Parish Safety Volunteers operate.
Reducing burglaries in the parishes in which Parish Safety Volunteers operate.
Making people feel safer in the parishes in which Parish Safety Volunteers operate.
2. Why are Essex Police and Essex County Fire and Rescue Service working together on this?
Essex County Fire and Rescue Service alongside Essex Police have a joint desire to increase community resilience and support the building of stronger communities in Essex.
3. What will Parish Safety Volunteers deliver in their Parishes?
Parish Safety Volunteers will be required to…
Conduct Parish Safety Visits and deliver Essex Police and Essex County Fire and Rescue Service approved advice and support.
Have a comprehensive understanding of what support is already offered in the Parish and be able to signpost accordingly.
Be able to fit smoke detectors in the homes of local residents.
Participate in activities in order to generate Parish Safety Visits and promote awareness of the scheme in their Parish.
4. What else will Parish Safety Volunteers be expected to do whilst volunteering?
Parish Safety Volunteers will be expected to…
Liaise with Essex County Fire and Rescue Service in order to arrange visits and confirm volunteering availability.
Keep and maintain the Parish Safety Volunteer equipment provided by Essex Police and Essex County Fire and Rescue Service.
Attend Parish Safety Volunteer group information, training, review and update sessions
Complete the paperwork required of Parish Safety Volunteers and return it within the agreed timeframe.
Adhere to the policies, expectations and procedures required by Essex County Fire and Rescue Service and Essex Police at all times.
5. How will Parish Safety Volunteers find individuals requiring a visit?
Referrals will be generated by Essex County Fire and Rescue Service and Essex Police, through the processes already used by the organisations to arrange home safety visits.
Referrals will also be generated by Parish Safety Volunteers themselves, as they will be promoting the service and already have some local knowledge of areas and individuals that would benefit from a PSV visit.
6. How will Parish Safety Volunteers interact with the Parish Council?
Parish Safety Volunteers will not require co-ordination or management from Parish Councils as Essex County Fire and Rescue Service will provide all support needed.
However, we will set up a direct line of communication between Parish Safety Volunteers and Parish Councils. This could mean that volunteers attend Parish Council Meetings to update on progress and activity. It could also mean a telephone or email update from volunteers. This will be a local arrangement tailored to the needs of the Parish Council in question and established when the scheme is introduced to the Parish.
7. How will Essex County Fire and Rescue Service and Essex Police keep Parish Councils updated on the PSV Scheme?
ECFRS will send a bi-monthly progress update to all Parish Councils for whom the Parish Safety Co-ordinator holds contact details. This will be sent on approximately the final day of the month.
8. How will we know what impact the Parish Safety Volunteers have on their Parish?
The Parish Safety Volunteer Co-ordinator will carry out a robust evaluation of the PSV scheme. This will be completed in by October 2016.
9. Key Contact
Parish Safety Volunteer Co-ordinator: Essex County Fire and Rescue Service – Kieron Moir.
No: 01376576237
Email: [antibot mailto="[email protected]"]