June Crime Incidents
June saw just one incident, with a theft from a vehicle, after an also quiet May.
Theft from a vehicle on the A12
At some time between 03:00 & 03:30 on 7th June, unidentified suspects ripped out the side curtain of a parked lorry and removed a number of lawnmowers whilst the driver was asleep.  When confronted by the driver, both suspects made off in a white Transit van.
Information Releases
Three have come through this month, two with summer in mind, one on general crime prevention, one focussing on garden security, and another on personal safety.
A Bit of Summer Crime Prevention Advice
Hopefully the warm weather we have had already will not be the last and it will be a great summer. Please consider the points below so you don't become a victim of crime.
If you have unoccupied rooms that are accessible to others from outside or off flat roofs make sure the windows are closed, if you need ventilation in these rooms at least lock the larger window and only have the small window open, even during the daytime. If you only have bigger windows consider a lockable window restrictor, or a small alarm sensor on the window to detect entry.
Leave a door or patio door open and in comes trouble, even during the day. If that door is accessible the sneak thief will pop in and anything lying around will be gone, you may have only popped down the end of the garden or having a quick shower upstairs, it only takes a second.
Before you turn in for the night do the "rounds" and check all is secure, some may think it is a bit over the top but you will feel more confident and less likely to become a victim.
Check the simple things:-
Parked cars – are the windows shut and doors locked (don't assume that by pressing the button on the remote it is locked, try the handle too)? A lot of thefts are from insecure cars and vans.
Side gate shut and locked, sheds and garages secure?
Don't leave unattended pedal cycles insecure and out the front.
Doors closed and locked? Don't forget on that UPVC multi-locking door you may have lifted the handle but until you turn the key on the inside you have not locked all the locks in place.
Don't forget to check that patio door, someone may have closed it but did they lock it?
Windows – lift the blinds or open the curtains and check they are closed, the sun may have been on the TV and it was hot, so they were drawn with the window open. Remember the advice above re open windows. Make sure in case of fire that keys to windows and doors are readily accessible to occupants but not in view of possible burglars.
If you have an intruder alarm activate the zone for the unoccupied area.
Car keys – don't take them to bed with you, where possible leave them in noisy drawer/location.
If you do hear a suspicious noise in the house that you are not happy with dial 999, if you have an intruder remember your life is more important than your property, but do get a good description and if possible car index number.
Social Media – When using "Facebook" or other be wary of announcing to the world that you are away and your house is empty. Make sure your profile does not contain private information that would identify you or your address to a stranger.
Last bit of advice – Going on holiday? Stop the milk and newspaper deliveries and look after each other, get a neighbour or friend to keep an eye on your property, ensure neighbours have contact numbers for a key holder and where possible let them park their car on your drive. Basically if you create the illusion that your house is occupied it is less likely to be broken into.
Stephen Armson-Smith
Garden Security – Hints & Tips
With the weather steadily improving and with the nights getting longer, it is even more important that your garden is secure from would-be criminals. Making your garden more secure could prevent an intruder from getting into your home, garage or shed.
Hints and tips for securing your garden
Installing strong fences or gates will act as a deterrent, preventing intruders getting into your garden.
Ideally any gates, fencing, walls and hedges at the front of your house should not be more than 1.2m (4ft) so the front of your property can be seen by passers-by.
A standard 1.8m (6ft) wall or fence at the back of your house is sufficient. Increase the height to 2m (6ft 6in) if there is public access on the other side – any higher than this will need planning permission.
Trellis fixed to the top of a fence is not only decorative but can provide extra protection as it is difficult to climb over, breaking easily and noisily.
If there is an access point to your garden at the side of your house a strong lockable gate will act as a deterrent.
Garden gates should be at least the same height and strength as your fencing with hinges securely attached to the gateposts.
Fit good quality locks to gates that cannot be reached from over the fence.
Remember to always lock your gates.
Planting prickly plants or a hedge, such as firethorn, climbing rose or hawthorn, around the perimeter of your garden can be a powerful deterrent. For more information about plants which can help protect your property go to (link to page on our internet site).
Gravel on paths and driveways can act as an alert to someone coming towards your property.
Install dusk to dawn security lighting. The low energy lamp stays on in the dark and switches off when it starts to get light.
Secure garden furniture and wheelie bins so they cannot be used to climb on and gain access to upstairs windows.
Do not leave ladders lying around – they could be used by thieves to climb into an upstairs window. Keep them locked in a garage/shed.
Do not leave tools, gardening equipment or debris lying around in the garden as they could be used to smash windows.
Keep your garden neat and tidy so it looks cared for.
While working in your garden, make sure doors and windows are locked to stop unwanted visitors.
Do not use barbed wire, razor wire or broken glass on walls or fences to protect your property – you could be held legally responsible for any injuries caused.
Article courtesy of Northumbria Police
Personal Safety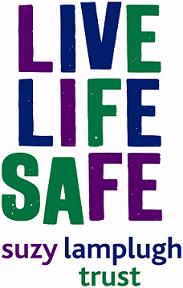 Essex is a safe county and the chances of you, a friend or a member of your family becoming a victim of violent crime are low.
However there are a number of steps you can take to keep yourself safe. Planning your journeys, staying alert and avoiding poorly lit alleyways and car parks are just a few.
Suzy Lamplugh Trust is a charity devoted to providing practical support and personal safety guidance. Visit the trust's website for detailed advice and take a look at our tips below.
Plan ahead
Before you go out, think about how you are going to get home. Avoid travelling alone and set aside some money in advance. Can you travel home with a friend? What time does the last bus or train leave?
Think about what you need to take with you. If you must take valuables with you try not to keep them all in one place. Instead place valuables such as wallets in an inside pocket.
We all have the right to wear what we want but it's worth remembering that you can help to reduce the risks by wearing clothes you can move in easily. Carry a personal safety alarm.
Stay alert
Be extra careful when using cashpoints. Make sure nobody is hovering nearby and don't count your money in the street.
Keep your mind on your surroundings – if you're chatting on your mobile phone or listening to your iPod you won't hear trouble approaching.
Trust your instincts if you think you are being followed. As confidently as you can, cross the road, turning to see who is behind you and head for a busy area where you can tell people what's happening. If necessary, call the police.
Walking alone
Avoid danger spots like quiet or badly lit alleyways, subways or isolated car parks.
Try to use well lit, busy streets and use the route you know best.
Whenever possible, walk facing oncoming traffic to avoid kerb crawlers.
If you are at all worried, try and stay near a group of people.
Avoid passing stationary cars with their engines running and people sitting in them.
Beware of someone who warns you of the danger of walking alone and then offers to accompany you. This is a ploy some attackers have been known to use.
Never accept a lift from a stranger or someone you don't know very well even if you are wet, tired or running late.