July Crime Incidents
July saw just two  incidents, both criminal damage to vehicles, after an also quiet June.
Criminal damage to a vehicle – Mumford Close
At some time between 01:00 & 08:00 on 15th July, unidentified suspects caused damage to a vehicle by climbing on top of the roof and bonnet leaving footprints and fingerprints causing the inside of the roof to be distorted.
Criminal damage to a vehicle – Erle Harvard Road
Between  18:00 on 18th and 10:30 on 19th July an unknown suspect caused damage to a vehicle by spraying the front and both sides of the cab with black paint.
Information Releases
Three have come through this month, one advising of a nearby outbreak of equine theft, a discussion about rag and bone men and news of the popular Meerkats partnering with Neighbourhood Watch.
Horse theft a growing concern nearby in Suffolk and a potential risk locally

Early in July, Suffolk Police have received reports of suspicious activity around rural establishments and fields in the IP10 and IP11 area.  Discussions on internet forums and social media are speculating that horses are being targeted for theft.
Suffolk Police received reports of two white males in a white van with blue writing acting suspiciously at an equestrian establishment. The purpose of these males is not known.  Overnight on 6th July it was reported that a pony had been moved from one area of a farm and had been secured in a nearby field.
Farm and horse owners should take this opportunity to review the security of their stable yards and paddocks.  Anyone who observes suspicious activity around horses should note down as much detail as possible and report it to the police on 101. Time, date, vehicle registration details and descriptions of any persons involved are particularly helpful.   Number plates of vehicles may be cloned, so a full description of the vehicle involved should be taken.
Suffolk Horse Watch gives the following advice to protect your horse:
Freeze marking is well known and proven as the most effective theft deterrent. The reason is because it is visible – it will deter thieves, but on the rare occasions when freeze marked horses go missing, it provides an excellent tracing facility, with no need for any expensive equipment to read the marks.
Change your routine regularly and visit your horse at irregular times.
Check perimeter fencing daily to ensure it has not been tampered with.
Gates are often the weakest points in the perimeter and, as such, need careful consideration (field gates themselves are valuable and often stolen). Metal gates tend to be more secure. Gateposts should be securely cemented into the ground. Gate hinges need to have the tops burred over or welded to prevent the gate being lifted off. The gate should be kept padlocked at all times. A good heavy-duty chain (motorcycle security chains can be useful) and the best quality close-shackled padlocks (to resist bolt croppers) that you can afford need to be used.
Ask residents of neighbouring properties to look out and report any vehicles / people loitering or taking undue interest in your paddock or yard.
DO NOT be tempted to lock your horse in a stable.

If someone intends to steal your horse it makes it all that much easier, with the horse being in an enclosed area.
It puts your horse at risk in the event of a medical or fire emergency.

Report to the police anything out of the ordinary.
Rag & Bone – convenient or suspicious?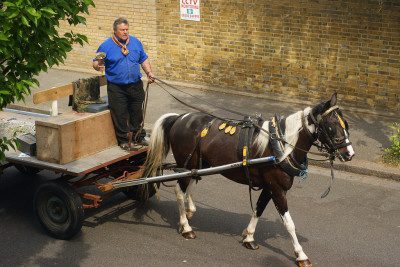 You may all recall or heard stories of the Rag and Bone man who would travel around on a horse and cart collecting old clothing and animal bones.  You would also hear him calling out as he made his way around. As the years have passed by changes have occurred with the collection of various items of house hold scrap.  Often this would result with the Rag and Bone man paying a small amount of cash for items given to him which was well received by the families.
Times have changed since then with many people selling their own items at car boot sales or through internet auction sites, plus we are now all familiar with the modern van-driving dealers driving slowly around neighbourhoods, some of them ringing a bell as they go.
We know that the reputable collectors operate a valuable service for people to get rid of their items and get them recycled in the right way, but we have also received reports that other unlicensed collectors are scavenging metal items which people still want. There has been concern from members of the public that these persons are operating without the relevant certificates and in some cases there have been reports of them accessing people's back gardens and sheds and taking property without the owners consent.
While being mindful that the collectors provide an often invaluable service Essex Police are asking residents to reports any thefts or those noted to be to acting suspiciously within the area.
What should you do?
Call Essex Police on 101 or 999 if a theft is occurring at the time.
What information do Essex Police need to know?
The location of where vehicle seen
The date and time seen
Description of vehicle – Index number, colour, make and model and direction of travel
Description of person(s).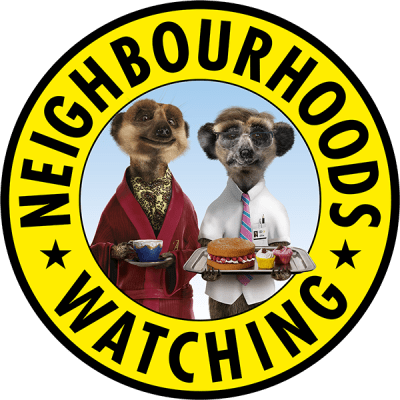 Stronger Neighbourhoods – reduce your chances of being burgled
According to the Office for National Statistics, the most recent crime statistics have revealed that domestic burglary has halved over the last ten years and the likelihood of becoming a repeat victim of burglary has reduced by 60%.
Being part of the community and being neighbourly has proven to reduce the chance of being burgled, with stronger neighbourhoods helping to reduce crime overall. The Neighbourhood and Home Watch Network (NHWN) for England and Wales states that by simply looking out for neighbours, reporting anything suspicious and adopting a few simple changes, helps to reduce the chance of being burgled.However, the advice from NHWN is that is always more which can be done and without new members and more communities looking out for each other, crime could start to increase.
Jim Maddan, Chairman of the Neighbourhood and Home Watch Network said:
Studies show that Neighbourhood and Home Watch schemes have a positive impact, typically reducing crime in neighbourhoods by around 16 – 26%, which is why its vital society works together to continue to bring crime rates down. As we celebrate 50 years of Neighbourhood Watch, we've made the bold decision to rejuvenate our brand, changing our iconic logo for a limited edition logo by enlisting the help of comparethemarket.com popular meerkats to widen our appeal and ultimately drive down crime by bringing communities together.
The Network has also been working with the Master Locksmith Association, Secured by Design and their Primary Security Sponsor Avocet Hardware, manufacture of the ABS high security door locks, in raising the awareness of the standards of locks and other security products.
Steffan George, Director of Business Development at the Master Locksmiths Association said:
Whilst reported crime may be falling this doesn't mean that the emphasis on security should be lessened. Quite the opposite, the promotion of good standards for locks, such as SS312 Diamond to counter the issue of lock snapping, have played a vital part in helping combat crime, as well as the high standards of MLA licensed locksmiths who can specify, supply and fit the appropriate quality locks to keep your property secure.
For more information, please visit www.ourwatch.org.uk