July 2015 Crime Incidents

There has been a gap in receipt of the reports from Essex Police which has recently resumed so this July 2015 report is the first in a while; hopefully, this will continue to be a regular update.
The past 5 weeks or so have seen 3 lots of criminal damage, 1 theft and 1 burglary.  Police have also issued advice on a number of seasonal crime issues such as bike theft, open windows inviting burglars, scams and car key burglary. For a complete crime picture, please visit  http://www.police.uk/ however, please be aware this information is always three months behind.
Criminal Damage – Hall Road
At 20:00 on 27th June,  unknown suspects entered the victims land and caused damage to the victims Larsen Trap by cutting through welded mesh trap and releasing a tame bird.
Criminal Damage – Chapel Road
At 22:00 on 7th July, unknown suspects caused damage to a vehicle by placing a screw in the rear passenger window, a note was then left by the car which said 'hi your back tyre looks flat' and then a smiley face.
Theft – Pirie Road
At some time on 10th July, unknown suspects removed a Karcher window cleaner from the victims driveway.
Criminal Damage – Chapel Lane
At around 16:00 on 15th July, an unidentified suspect made a hole in the victims wooden fence panel by unknown means.
Burglary – Newbridge Hill
At around 20:00 on 14th July, an unknown suspect gained entry to a secure shed in the rear garden by removing the front door by unscrewing the door from the hinges.  The victim cannot see anything missing.
Information Releases
There were quite a few issued in July 2015 so a linking list might help you find what you are interested in:
Home Security Advice for Summer
Most burglars will look for what they regard as the easy touch.  So, they will seek out a property which appears to have little or no security, or which may even have an open window or door making it physically insecure.  Burglars will also look for properties which are not visible to onlookers, reducing their chance of being caught in the act.
To assess the security of your home or business premises imagine you are the burglar, and consider the questions that a typical burglar will ask themselves:
How am I going to get in?
Are there any valuable items visible through windows or doors?
Does the house next door look more of a difficult job to break into?
If the answers to any of these questions are 'yes', the chances are that the burglar will also notice that, and the small possibility of your becoming a victim of burglary will have just increased.
Here are a few helping hints:-
Lighting, if overlooked or there is a chance of being seen, burglars will prefer to go elsewhere so get some decent lighting on your house. Dusk till dawn on the front, not only can you see who is at your door but also when you come home you have a welcoming light. At the rear fit motions activated light but ensure you set and site it so animals and plants don't keep turning it on as that only creates more alarm.
Is there clear unobstructed access to the rear? Burglars will prefer to gain access out of sight at the rear. Where possible fence and gate access to rear (and lock that gate), top this with some trellis or spiky toppings (NB: the spiky topping requires a warning notice). How about some defensive planting, what's this you ask……something like Berberus, Pyracantha or Hawthorn around perimeter fencing or anything else you wish to protect i.e. domestic fuel tank (some garden centres sell more established plants).
Windows:- ensure that they have at least two locking points, if not fit visible window locks (most modern UPVC windows although having one handle this in fact engages a multi locking system).
Doors: – In addition to the Rim Lock, (Yale type lock) fit and use a five lever mortice lock. Most UPVC doors as with windows use a multi locking system, make sure you know how to use it.  When inside pulling the handle up will engage all the locks but will only lock the centre lock. To lock them all in place you must use the key (if in doubt try it before the burglar does, and then he only needs a small screwdriver for force that centre lock on its own). Fire Safety you must have the key readily available in case of fire, but not in view of any windows or letterbox.
French doors: – Most modern doors have multi locking systems that lock top, bottom and at the centre, on older doors in addition to the centre lock if each door does not have locks to the top and bottom fit additional ones. Keys: – keep them out of sight of the door, but ensure everyone one in the house can find the key to get out in case of fire.
Bins:- Secure bins and other objects away from buildings and walls so that they cannot be used as a climbing aid.
Illusion: – Make the house appear occupied, if going away get a neighbour to open and close curtains, and put rubbish out for you. Ask a neighbour to park one of their cars on your driveway, it does them a favour too. Table lamps inside on a timer or "dusk till dawn", a radio on a talking programme, it all helps. Don't let post and newspapers build up at the front door
Property marking: – If your property is marked with your post code/house number is reduces the value to a thief, visible marking is best then the thief knows it's marked too. If your kit comes with a sticker for the window display it, that way even before the thief comes in he know your property will be harder to sell on. With jewellery and small items photograph them, and record the details, if the item has a serial number make a note of it.
The shed or out building: – Put a decent lock on it and keep it locked. DIY stores/Argos sell shed alarms at reasonable prices as an added deterrent and where possible securely fit a large metal ring into the floor or wall and lock and chain large items to it and with smaller items keep them in a secure box. A lot of the above re lighting and property marking also apply to the outbuilding too.
All this said, the chances of you being a victim of crime is remote and even more so with a little thought.
Another point – if you see something suspicious please report it, it may save you from being the next victim. Call 999 if it is happening at that time or if after the event, 101 or you can ring Crimestoppers anonymously on 0800 555 111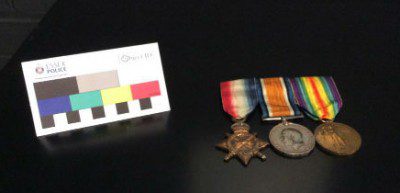 Make your property 'Too Hot To Handle'
As part of their heritage campaign, Essex Police launched the "Object ID" card.  The card is intended to be included in your photographs of art, antiques, family heirlooms, medals, memorabilia and jewellery to give scale and correct colour rendition. The card also contains a guide to what details need to recorded in relation to your property.
When such property is recorded there is a greater chance of recovery of the property and a greater chance of a successful prosecution of the thief and/or handler.
Useful tips for photographing your property can be found within the guide on the heritage page of the Essex Police web-page: http://www.essex.police.uk/pdf/Recording%20your%20property.pdf
The cards are available from Age UK Essex, The Royal British Legion shop in Colchester, Community Agents Essex and from the Front Office at Colchester Police Station.
http://www.essex.police.uk/news_features/other_stories/object_id_cards_will_make_arte.aspx
Hot News in July
The following email was received in the past few days reporting a scam attempt:
One of the NhW members has been in contact with me after he received a phone call from someone claiming to be the Crime Reduction Officer for Essex Police. The NhW member, as he knows me and so knew this information to be false, interrupted the caller asking why he specifically had been called.The caller told him Essex Police Crime reduction were calling people in the CO6 postcode and tried to start the hard sell; again the NhW member interrupted him by asking what his name was?, where was he based? and that he personally knew the Colchester's Crime Reduction Officer. At this the caller realised his lies had been exposed and hung up.
If you receive a phone call or someone comes to your house that you don't know, don't be concerned about challenging the person and tell them you are not interested.
Remember :

 If you receive a call, never give information to people you don't know or be tempted by their "fabulous offers", just hang up. If you do need some work to be done, ask family/friends for recommended companies and try to get three quotes.
If you don't know who it is knocking on your front door, don't open it but try to look and see who is there through the nearest window. Speak through the door – you haven't invited this person to call and have no interest in what they are selling or saying so don't worry about being rude and leave the door shut. They will be able to hear you through the door when you say you're not interested.
Scams Awareness
July was 'Scams Awareness' month, joint campaign between the Citizens Advice Bureau and Trading Standards and Essex Police welcomed the opportunity to support them.  This release we addresses 'online scams'. For more essential information visit Trading Standards and Citizens Advice Bureau websites.
Online shopping and auction scams – internet shoppers get lured into buying phantom cars, mobile phones, pets or anything else you can buy online. Scammers use a range of tricks including bogus websites, spoofed payment services and 'second chance offers' tempting losing bidders with bogus opportunities. Online property market places are also infiltrated by scammers harvesting legitimate property details and posing as landlords.
Dating scams – using online dating websites, scammers groom victims into long-distance relationships using emails, instant messaging, texting and phone calls. Once they are confident of the victim's trust, scammers will tell them about a problem they are experiencing and ask for financial help.
Software scams – fraudsters often use the names of well-known companies to commit their crime as it gives a mask of legitimacy to their cruel schemes. Methods include asking for credit card details to 'validate' copies of operating systems, stealing personal information, and installing malware before charging to remove it.
Top tips for avoiding scams
If it sounds too good to be true it probably is.
It you haven't bought a ticket – you can't win it.
You shouldn't have to pay anything to get a prize.
Never send money to someone you have never met.
Your bank will never phone you to ask for your PIN or your online banking password.
Your bank will never ask you to transfer money to a new account for fraud reasons.
Genuine computer firms do not make unsolicited phone calls to help you fix your
Don't suffer in silence – speak out about scams.
If you've lost money because of a scam report it to Action Fraud, the national fraud reporting centre. You can report the scam through their website or by phone. You can also forward scam emails to them.
Action Fraud
Website: www.actionfraud.police.uk
Telephone: 0300 123 2040.
Car Key Burglaries
In some cases burglars are breaking into houses while you sleep with the intention of stealing your car keys and any other small items they find.
Before you turn in for the night check that all doors, ground floor windows and easily accessible upstairs windows are closed and locked, remembering to remove the key from the window handle and to store it nearby.
PVCu doors are not fully locked until you have lifted the inside handle and turned the key. Don't leave the key in the lock once you have secured the door, remove it and store it nearby, out of sight.
If you have an intruder alarm and can do so, activate the downstairs zone.
Ensure that side gates are closed and locked.
Put your car keys somewhere out of sight when you return home, but don't take them up to the bedroom with you.
If you have cars of different values, park the higher value car in your garage, or park the lower value car in front of the higher value car.
Consider fitting a tracking system to high value cars.
Burglars are mostly opportunistic so by following the above advice, you greatly reduce your chances of becoming a burglary victim because you are making your home too difficult for the thief to get in.
For further crime prevention advice contact your local Crime Prevention Officer using the police non-emergency number 101.
Reporting Incidents to the Police
What is considered an Incident?
An activity out of the ordinary for your area/road or should not be occurring within your neighbourhood.  Knowing your neighbours and their routines will make it easier to recognise and report incidents
How to report an incident:
Activities or events that are not life threatening emergencies should be reported by dialling the police  non-emergency number: 101
All calls are graded by control room staff.  Activities or events that are life-threatening emergencies or happening in front of you at that moment, should be reported by dialling: 999
If you wish to pass on any messages to your local police team or you would like some crime prevention advice you can do that by phoning 101 and asking that someone from your local team contact you.  The caller will take your contact details and send an email to your local police team.   Or visit www.essex.police.uk put your postcode in 'My neighbourhood' and you will get all the names and contact details of the officers from your specific area.
Useful information to the police when reporting a suspicious person:
Hair – colour
Eyes – colour and/or wearing glasses
Hat – what kind if wearing one
Clothing – brief description and colour
Jewellery – anything distinctive (eg nose stud)
Any distinctive scarring
Race
Approximate age
Approximate weight
Approximate height
Male or Female
Useful information when reporting a suspicious vehicle:
Registration number – if not putting yourself at risk to obtain it
Colour and make of vehicle (eg Ford, Vauxhall)
Model (eg Fiesta, Astra)
Body Style (2-door, 4-door, van, estate etc)
Condition (old, new, any obvious damage)
Other features (stickers, bodykits etc)
5 Tips to Keep your Bicycle Safe and Secure
In the UK, a bicycle is stolen on average every minute; with less than 5% of those returned as they're difficult for the Police to identify the owner.  Current research suggests that cyclists are more likely to have their bicycles stolen than motorcyclists their motorcycle or car owners their cars these days!  Bicycle theft has doubled in the UK since the mid 1990s, probably due to the increasing popularity of expensive models and innovative ways of selling stolen goods online.
Take action against these unscrupulous thieves and protect your belongings, including your bicycle!
REDUCE THE CHANCES OF YOUR BICYCLE BEING STOLEN,  INCREASE THE CHANCES OF IT BEING RECOVERED.
Where to park?
Always lock your bicycle wherever you leave it – it only takes seconds to steal an unsecured bike. Make sure it's locked in a well-lit public area with lots of people passing. Stations and public buildings often have designated areas with bicycle racks – Be sure to plan ahead and check out amenities in the places you need to leave your bicycle – remember to read signs in the area you intend to park being sure not to park illegally.
Using a bicycle lock
Only use a good quality D-lock. A poor quality lock at the lower end of the market can be easily sawn through or bolt cropped in seconds. It certainly pays to invest in the best quality lock you can afford (At least £30 -£40). Always lock your bicycle to something immovable, an object a bicycle cannot be lifted over and cannot be broke, cut or removed i.e. chain link fencing, grilles, gates or trees – check the object is fastened to the ground. For maximum protection use two locks of different types (a D-lock and robust chain and padlock is ideal) Use each lock to catch the wheels, frame and stand – Fill up as much of the space within the D-lock as possible with the bicycle.
At Home
As many as half of all bicycles are stolen from the owner's home – Always lock your bike at home even when it is in your garage, flat or halls of residence. Please be vigilant when returning from a ride!! Consider investing in a ground anchor and attach it securely to a wall or concrete floor. Make sure you keep your bicycle out of view of prying eyes as this alone will provide an irresistible incentive to break in to your property.
Bicycle Insurance
If you own a decent bicycle then it is probably a good idea to insure it. There are several ways you can do this; Insure your bicycle on your home contents insurance – don't forget to cover it for thefts away from home. More expensive bicycles may require specific insurance cover against theft and accidental damage.
Registration & Police Identification
Before registering your bicycle on Immobilise take a photograph and along with this record the frame number and any key details such as make and model. Mark your frame with your postcode in two separate locations if possible, one of which should be hidden. Collectively this information stored on your Immobilise account will be crucial in recovering your bicycle should it be lost or stolen. It is important to consider that the frame or other identifiable codes could be removed by a thief and Radio Frequency Identification (RFID) Tagging of your bicycle is highly recommended (See diagram left) as its virtually impossible to remove from the bicycle's frame!
Burglary Hotspots
Operation INSIGHT is Essex Police's response to burglaries and is based on the theory of "predictive policing" which, as the name suggests, is about using a particular form of crime pattern analysis indicating where crimes are most likely to happen.
Academic research indicates that criminals are habitual in behaviour and go back to the locations where they have had previous success, this supports the theory of Repeat and Near Repeat Offending (i.e.; you are more likely to become a victim if you live near a victim).
Predictive Policing uses crime pattern analysis to indicate where offences are most likely to occur next.
Given the ability to 'predict crimes' logic dictates we should concentrate our policing efforts in these areas which are mapped as circular zones around victim's addresses. These zones are shared with key partners such as Community Safety Accredited organisations.
Resources are directed to conduct intensive patrols within these zones, supported by the process known as "cocooning".
Cocooning;
Following a burglary, we will visit near neighbours, the number of dwellings to be visited will be site specific, but would normally include 10 houses either side, 10 in front and 5 behind (see map below).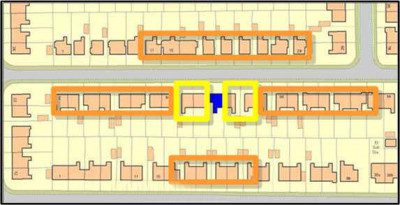 Attending officers will conduct an initial assessment of security and vulnerability which may inform referrals to other scheme such as crime prevention officers or local handy man schemes. These households will receive bespoke crime prevention advice and reassurance.
The success of Operation Insight is continually assessed and currently indicates a 9% decrease in offences year on year.
Keep Informed
Keep informed about crime and policing issues which affect you by signing up to Essex Community Messaging – www.essex.police.uk/ecm.