Essex Libraries have three updates for Summer 2022 covering: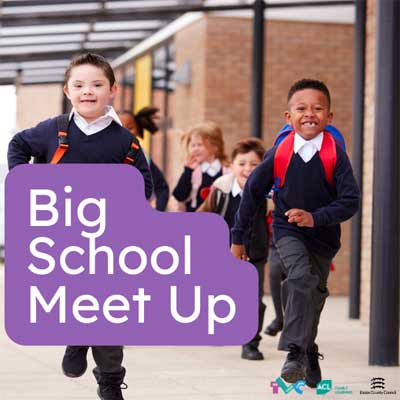 for those with kids starting primary school,
Book Groups, and
Is your child starting primary school?
Starting primary school can be scary for children and their families. You can take the scare factor out by coming to one of our Big School Meet Ups before the big day in September. You can get the chance to meet other children and their families who will be starting at your own child's school.
There have been several of these events already, but they'll be continuing until the end of August. See what's happening at your local library for details. And if you've missed the event for your own local school, don't worry – you can still come along to one of the others, chat, listen to a storytime and get some tips and tricks.
Recycling at your local library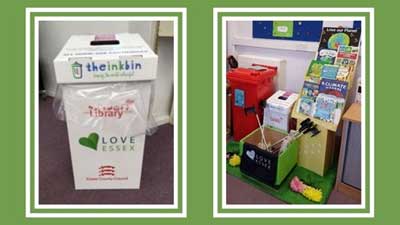 Here's a tip about disposing of your empty ink cartridges in an eco-friendly way. Take them to your local library.
Every library has a new Ink Bin recycling box to put your empty home-use ink cartridges in. Once they're collected, they'll be sorted, refilled and put back on the market as remanufactured ink cartridges. This will stop them ending up in landfill.
What else does your local library recycle? Most will take old batteries; some take small electrical items too. Save yourself a trip to the recycling centre!
If you're running short of recycling sacks or caddies for roadside collections, your local library may be the place to help. Food sacks, garden sacks and recycling boxes can all be found at some of our libraries.
Coverage does vary, so check out the recycling facilities available at your local library.
Book groups and Essex Library Service
Are you keen to share your thoughts about a book you've read? Can't wait to find out what others thought of it, too? Starting a book group is a great way to stay in touch regularly with book lovers and to make new friends.
Essex Library Service helps book groups in many ways. By registering your group with us you can reserve multiple copies of your chosen book which can be borrowed for up to three months, and you can choose to be added to the list of book groups which can be shared with other interested readers. Our website can give your group ideas for what to read.
Summer Reading Challenge
A reminder that the Summer Reading Challenge – Gadgeteers – is running until Saturday 3rd September in all Essex libraries and mobile libraries.
To take part, children will need their own library card, so if anyone in your family is not a library member pop down to your local library to join or join online now.
The challenge for children is to read six books over the summer. If they do, they'll earn a certificate and medal.