Standing Together Community Walk – Saturday 27 September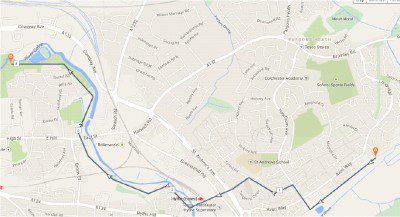 The Safer Colchester Partnership has organised a community walk on the 27th September to reclaim the pathway of the two recent murder scenes in Colchester.  The walk will take a route from one murder scene to the other in remembrance and to demonstrate the local community Standing Together.
The route starts on the Salary Brook Trail at Titania Close Play Park at 10am it then moves into Greenstead at Hawthorne Avenue to Forest Road before crossing over into The Hythe where walkers are asked to follow the River Colne trail to Castle Park. If you wish to join on the route there are joining points at Spurgeon Street please be there for 10.40am, East Bay at 11.00am or you can join at the end in Castle Park at 11.20am.
This is an open invitation for anyone to join the walk on the 27th September. Please feel free to pass this on to colleagues, friends and family members who you feel would like to join the walk.
Colchester Standing Together
Colchester is a strong community. Our local community will be standing together in a walk across the borough, to reclaim our paths in a peaceful show of support and unity.  Individuals, families and local organisations will be walking side by side, creating a high visibility presence on a route across the town.   The message for residents and visitors alike is that community safety is everyone's absolute priority. By pulling together and communicating necessary information and safety messages, Colchester will stand together to help keep its community safe.
The walk will start at the playground behind Titania Close and will finish at Castle Park. Walkers who wish to lay a flower in solidarity on the walk are welcome to do so.